WORDS: PETE MCGREGOR PHOTOS: PETE AND YVONNE MCGREGOR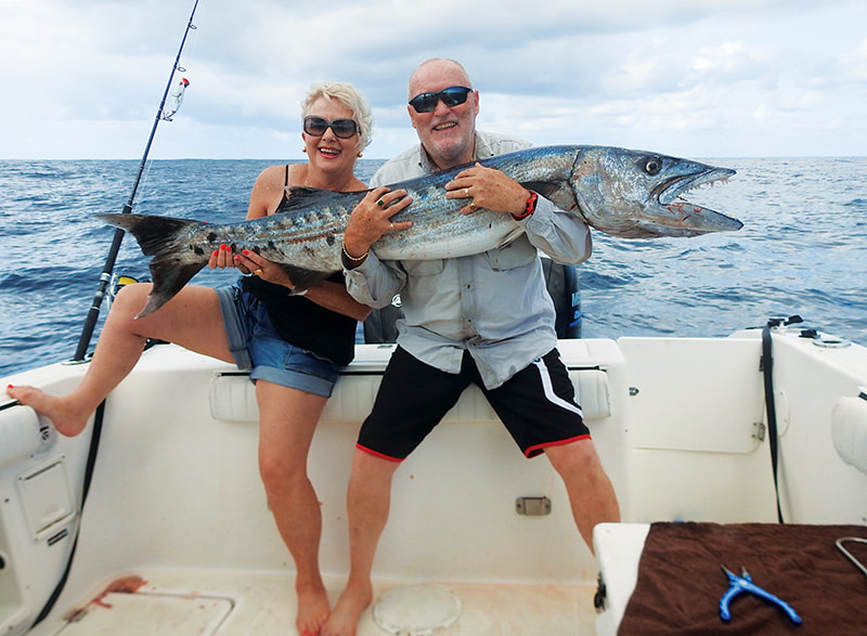 Every keen fisherman has a bucket list of species that they would love to tick off as "got one." The giant trevally (GT) is certainly well up on mine. This magnificent fish is one of the hardest fighting fish, pound for pound, with explosive speed and amazing power created by its large tail and slab sides. So, when my wife Yvonne proposed that we spend Christmas in Vanuatu, it took me only ten seconds to say, "Yes," that ten second delay only brought about by my need to take a breath.
Yvonne had spotted an advertisement featuring $398 return flights on Air Vanuatu. We quickly went on line to check accommodation deals, and within moments were all locked in, leaving Auckland December 20th and returning on Boxing Day.
Vanuatu is a group of 80 islands roughly 3 hours flight time from Auckland. I had fished in Vanuatu about three years previously, catching some fine mahi-mahi. This time I wanted to be more active. This time I wanted a GT.
Our flight left at the inhospitable hour of 12:35 AM, flying in a compact, but modern, Boeing 737-800 aircraft that had plenty of empty seats, so we were able to stretch out over 3 seats each and get a bit of a snooze on the way. Arriving at 1:30 AM Vanuatu time, we were met by the shuttle bus driver efficiently organised by our hotel. Unfortunately the hotel's efficiencies didn't extend to their own booking system. On arrival there at 2AM, we were told that they weren't expecting us until after 4:00 PM. Negotiations resulted in being assigned a temporary room until our poolside room became available later in the day.
Next morning, after breakfast we strolled along the recently built walkway on the beachfront past the business centre of Port Villa to reach the Waterfront Restaurant, in front of which, I was aware from previous visits, there were likely to be some charter boats plying their trade.
There we met George, skipper of the large charter launch "Nevergiveup". I explained to George my wish to tackle GT's, and he promptly connected me to an acquaintance ̶ Kenny. George assured me that Kenny was 'The Man' for the job.
In the time it takes to drink a rum and coke, Kenny was sitting in front of us, and it soon became clear that he was indeed 'The Man'. He was skipper of "Little Weapon", a 26 ft Sea Fox powered by twin 150 Mercury 4-stroke outboards, operated by Island Fishing Charters. He would, thus, be able to get me in close to the breaking water around the reefs and bombies which are home to the GT. Yvonne had by now decided that she would join me for the day. Weather conditions meant that the earliest we could get out was Christmas Eve, which made me a bit nervous because it didn't leave any back up options. But Kenny assured me that, because we would be operating in close, there would always be a lee shore suitable for our needs, probably on the other side of the island. So, we shook hands on an 8 hr booking with a pick up time of 6.30 AM.
In the meantime, we had a wonderful time relaxing, swimming and sunbathing both from the beach and at the hotel pool. Vanuatu is also renowned for its fine dining restaurants, a benefit of its French Polynesian heritage. Our favourite restaurant was Vila Chaumières which overhangs the floodlit water in which a variety of local fish can be spotted. The food there is fantastic; however, we would recommend taking plenty of insect repellent.
We also hired a car for a day and drove round the island of Efate, on which Port Vila is located. A cyclone devastated Vanuatu in 2015 and while major reconstruction has taken place, you can still see evidence of the power of the storm, including shipwrecked fishing boats and infrastructure damage.

Sharp on 6.30 AM on Christmas Eve, we were picked up from in front of the hotel by Mich, a young Australian who is owner of Island Fishing Charters. Expecting to be driven to the other side of the island, we were surprised when he dropped us at a wharf just five minutes' drive from the hotel. However Kenny advised that the wind had moderated enough to allow us to fish the Southern side of Efate Island in an area not normally available due to prevailing winds. Great news.
Kenny introduced us to Harry, our Deckie for the day and we were soon heading out through the channel in the reef at the entrance to Port Villa and turning left for the 40-minute run to our proposed fishing location. Our plan was to target GTs first, so we cruised at 18 knots, trolling a lure for a wahoo along the coast past numerous luxury resorts and homes until we reached a small island. Kenny explained that we would work from there back along the coast.
I had brought my own stick bait rig plus a jigging setup. While I had packed my favourite stick baits, Kenny advised that there would be much more chance of success using poppers, because GT's are attracted to the large splashes created by these lures.
Soon Harry and I were at work casting poppers in as close to the breaking water as we were able. One hour on and nothing had been raised. An increase in the wind was making it difficult for Kenny to hold the boat in position, so a change of plan was called for. We would now slow troll at 3.5 to 4 knots close to the shore running a couple of Rapala lures, but simultaneously using the poppers out behind the boat and constantly jerking on the popper rods creating the explosion of water these lures are famous for. This has become a favourite technique in all the islands. Certainly, the resultant effect looks spectacular. The water here is a rich blue colour even just 100 metres off shore. We would need to go out 10 miles to get colour like that in New Zealand.
Chocolate cake and soft drinks were produced to keep up angler energy levels. Very nice chocolate cake too. And then it begins.
Kenny turns in to "Shark Bay" which he assures us has never produced a shark in the 20 years he has been fishing here. Suddenly a rod buckles over; a Rapala lure has been hit and line is streaming from the Shimano Saragosa reel. Harry gives me the nod to pick it up and soon I am buckled over as well. "It's a big GT," calls Kenny. Wow, surely I can't be that lucky. The rod butt is digging in to my nether regions. I have forgotten to dig out my small gimbal belt, so I'll have to put up with it. Yvonne is egging me on. "Don't pump the rod so much," Harry advises. I work the fish in towards the stern, puffing a bit in the heat. Harry and Kenny let out whoops of excitement as they see that my fish is in fact a huge barracuda. One of the biggest they've seen. I lead it in to the port side of the boat and Harry leans over and gaffs the brute in the chin. Kenny hands him a large wooden club. The 'peacemaker'. A few raps with this cudgel, and Harry is able to drag it in through the boarding door. It's enormous, surely close to 2 metres long.
High-fives all round. I give Yvonne and Kenny a briefing on the secrets of my camera. Harry struggles to lift the beast in to my arms for the photo opportunity. It's certainly bloody heavy. Yvonne joins me for a fun shot or two, before we manhandle it in to the huge chilly bin. It's too long. The tail remains sticking out one end. "What weight do you reckon. Kenny?" He calls it for at least 38 kg, remarking how difficult it was for Harry to lift it into my arms. Both the Ni-Vans are impressed that I held it to my chest, and as a result am covered in slime and blood. "A true fisherman," they exclaim. My shirt is duly removed and washed in a bucketful of sea water. Very refreshing to put back on, but I am not convinced of its cleanliness.
Never mind. Lures are back in the water, and we continue our circuit of Shark Bay. The same Rapala is hit again. "It's your turn, Yvonne," we call. It's not a huge fish, but soon Harry is lifting a nice coral trout into the boat.
We pass some islanders fishing from a traditional outrigger with hand lines. "Watch them strike," Kenny calls out, and sure enough we see a fisherman jerk his line up and start hauling in. However we are quickly past and unable to see what he has caught. It will be poulet, the local snapper, Kenny advises.
So far red and silver lures seem to be doing the business so all rods are changed to this combination. No sooner is this done, than, again, that Rapala goes off. It's a good run. Definitely a GT thus time Kenny promises. I'm on rod duty again; it's a fighter, but not pulling as much string as the barracuda. It's fun though, doesn't get much better than this, though I doubt that it is a GT, as it doesn't seem dogged enough in the fight. But I'm wrong. Looking down I can see the distinctive silver flash in the clear water. "It's a GT," I yell. Harry's on the gaff again and shortly we have a very agitated fish on board. "Watch that lure," he warns. The peacemaker does its business. "Mind my lure," wails Kenny. The GT is lifted in to my arms with instructions to grasp the powerful tail firmly, as it can cause injury. The fish is still very much alive.
I've done it. My first GT. It's not huge, around 12 kg they estimate, but it's a GT and that's a box ticked. They can reach 50kg – now THAT must be a fight!
No sooner are the lures back in, than the other Rapala is taken. If this is a GT, then it's a bigger one. Yvonne is struggling with the weight. I grab the small gimbal belt from my bag and buckle her in. That's better. Looks like a good fish. There are yells of surprise when a huge puffer fish blows to the surface. It's enormous. While photos are being taken, we discuss how such a slow-moving fish could take a trolled lure, even at the 3 – 4 knots we have been trolling. We speculate that maybe it saw something above and hooked up by accident. But the hook is firmly in its jaws, so it must have bitten at it. It's an amusing debate.
Kenny advises that we have a decision to make. It will take a further ½ hr to complete our trolled circuit of Shark Bay and after that, having achieved target species, we can head back to base completing a 6 hour charter, OR we can head out for a 30 minute run to the FAD and squeeze in a couple of hours trolling for wahoo, mahi-mahi or tuna before heading in, meaning an 8 hour charter. It's a no brainer. "Head for the FAD," I order.
A FAD is a fish aggregation device. In this case a wooden platform, anchored in about 800 metres depth, to which has been attached various inflatable tubes creating a man-made structure to which bait fish are attracted. You can work out the rest.
The 300 horsepower from the two Mercs quickly nudge our speed up to 30 knots, while we tuck in to tuna sandwiches made with fresh bread and canned tuna, spread using the lid of the can. It tastes great. More chocolate cake to follow.
Soon we are able to make out the row of buoys marking the FAD, and Harry puts 4 lures out ̶ the two Rapalas, a marlin lure plus the popper on a casting rod which he will work to try and bring in a game fish.
There's a lot of activity out here ̶ skippies, birds and eventually a large school of yellowfin tuna. But no matter what tricks Kenny tries, we are unable to raise a bite. It's very frustrating. Eventually Kenny stops the boat near the FAD. "There's yellowfin tuna right below us at 30 metres," he explains. "Let's get some jigs in the water."
Harry fits a butterfly style jig to my Smiths jigging set up, and I drop to roughly 50m. Kenny does the same with a similar lure on my top water rod. He loves its action, even though this is not what it's designed for. The water is 29 degrees.

Yvonne asks if she can try some bait. The boys reluctantly give in to her request and in moments, she pulls up a frigate fish....... "A shit fish," Kenny exclaims, and throws it back.
I remember I have a couple of Williamson Benthos 300gram lures in my bag, and hasten to change to one of those in pink and silver. This lure should go straight down under the boat, whereas their butterfly lures tend to drift out behind us making jigging difficult.
First drop to about 40m, I complete just two jigs and suddenly I'm on. It's a huge powerful run. "Tuna!" yells Kenny. The reel is screaming, beautiful smooth drag on the Accurate. Kenny backs up, all other lures are pulled in. "Will this take long, McGregor?" Yvonne wants to get bait back in the water. But I'm fully engaged. I call for my gimbal belt. This could take a while. I use a short pumping action to try and turn the fish. Eventually it slows and I start a long battle. It's pretty tough. The last time I had a decent tuna on, I was using a 50w Shimano set up with a full gimbal and harness. This time I have only a small gimbal, no harness. All the weight is on my arms. The rod and reel are behaving beautifully, but I have been out for 7 hours and pulled in a couple of fighters already. I'm feeling the burn. I gain a bit, then the tuna takes it back. We seesaw for what seems an endless period. As with most tuna fights, this is largely vertical, and a direct contest between man and fish.
Gradually I begin to make inroads. Kenny calls it for a 60 kg-plus yellowfin. It would be great to add this to my species list. I know I'm getting close; there's not much room on the reel now, so it's gotta be only 20 m below us. Suddenly three large dark shapes come in to sight on the surface. "Have you got a shark?" Kenny enquires. "Nope, my fish is down there somewhere," I reply. Oh dear, this is not looking good. It's urgent now. I'm pumping hard, muscles screaming. Gotta get my prize past those bronzies. Harry is leaning over the side; he reckons he can see the silver of the tuna. Then Thump. Thump. Bugger! The reel screams in disgust. My tuna has been replaced by a bronze whaler shark. Oh, the pain! All in vain!
I pass the rod to Harry. "Here, you take this. I'm too buggered to be bothered fighting a 2 metre shark." Harry's happy; the bronzie, less so. He's going to put up a fight. We need to get him in quickly and released, if we are going to have a chance at another yellowfin. There's a debate about just cutting the line and re-rigging. But the guys are not keen on losing a lure, even though its mine. Kenny dons a pair of gloves and starts pulling in line by hand while Harry winds. Progress is still very slow, but the boys are in good humour. Kenny manhandles the shark to the surface two or three times, but as soon as it eyeballs us, there's a huge splash and it disappears below. "Cut it cut it!" I yell. But the shark has other ideas, and is suddenly free. My uni knot attaching the lure has finally called it quits.
Kenny looked at his watch and declared, "Time up." We'd have to head in. While I was deflated by the loss of the tuna, I can't really complain. We had a mighty day with heaps of action. I ticked GT off my bucket list, and caught a mighty barracuda. Gotta be pleased with that.
Kenny guided us expertly into a newly created marina / canal area, and as we tied up, we were met by Mich for final photo opportunities and the ride home to our hotel. On the way Mich told us how he had originally purchased the boat to fish commercially for poulet, for the local market. It had proved difficult and unprofitable. He was then introduced to Kenny, who was looking for a change, and a mutually beneficial team was formed ̶ one of the best charter boat operations on the island. I can certainly recommend Island Fishing Charters on the basis of my experience. For more information look up
http://islandfishingchartersco.com.vu
Oh, yes, and they have very high quality gear on board, so you don't really need to take your own tackle, which makes international travel a bit more convenient.
So, that was our Vanuatu experience. It's a great place to go for a holiday, and an even better place to go for a fish. You should try it.
Now what's next on the bucket list? Broadbill maybe?