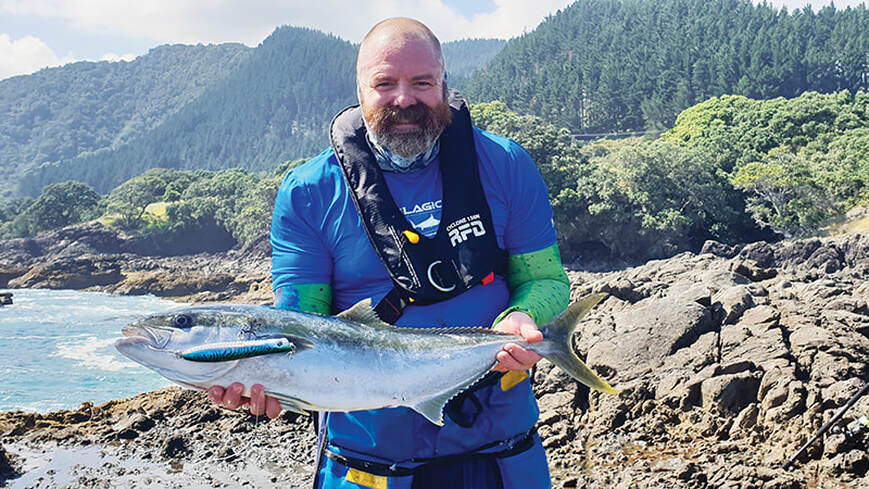 Reviewed by Andrew Randall

When the editor asked me to do a review on some stickbaits, I knew I was venturing into a fishing genre that I was not normally accustomed to. You see, I am pretty old-school. When targeting pelagics off the rocks, I normally use bait ̶ dead baits, live baits and even skipping baits across the surface. But over the last few years, I haven't been able to ignore the surge in both range and popularity of top-water lures. They have taken the New Zealand fishing scene by storm and have been extremely effective on our resident kingfish.

Black Magic have recently introduced a line of poppers and stickbaits designed by world-wide fishing legend, Patrick Sebile, under the A Band of Anglers brand. Sebile has travelled the world to work out what works and what doesn't, and has come up with a new line of lures called Ocean Born. I was sent three different types of lures. A 90 gram Green Mackerel sinking flying pencil, an 80 gram Lime Glow Chartreuse sinking flying popper and finally, a 126 gram Lime Glow Chartreuse super-long-distance flying pencil. My thought on first seeing the lures was that they are quite different than any others I had seen before. One thing that stands out is that they are designed for maximum cast-ability. They incorporate side-wings, low air-friction ribs and angled tail-wings that further reduce the effect of air flow during the cast. That is why they are called the "Flying Series." And the proof is in the pudding, where I would say they are the best casting lure I have used. They are a very well-balanced and compact lure, making them not only very easy to cast, but also allowing them to travel through the air at break-neck speed. I was able to get crazy distance on these lures, which is a real bonus. As it says on the packet, this allows you to "catch fish that others can't reach."
A lure that casts well is one thing, but it's quite another thing to observe its action in the water. These lures come with a standard 4 or 6x treble hook. I always replace the split rings and hooks on any lure that I receive with high-end hardware. This also allows me to try something different, mixing things up with singles rather than trebles, and to assess any changes, for better or worse, on the action of the lure. The same low air-friction ribs that reduce air resistance also improve water turbulence. And the side wings give the lure more lift and action. The key with any lure is to work out what action works best. There are many different techniques, like walking the dog, skipping the lure along the surface or slowly swimming it underneath the surface. These can be achieved by changing the retrieve speed or cadence. It took me a while to figure it out, but once I did, I was impressed by the action of the lure.
Fitting in a trip was a bit of a mission as work got in the way, but a window opened up three days before the full moon along my favourite section of coast. The goal was to target kingfish, so I got the stick bait set up out straight away. I made use of my MC Works Raging Bull PE5-8 rod with a Stella 10000 reel, as I knew that where I was fishing requires a heavy drag to skull drag the kingfish away from the rocks. And it didn't take long for the lure to work its magic. It was only my first cast, when a small kingfish jumped clean of the water and attacked the flying pencil lure. Wow, that was quick. Throughout the day we managed a heap of kingfish ranging from 50-105 cm as well as numerous kahawai. It ended up being a very productive day.
Overall, I would rate these lures very highly, considering they are in the low to medium price range as far as stickbaits and poppers go. If you are looking for something that is compact, casts well and catches fish, try the Ocean Born flying series.