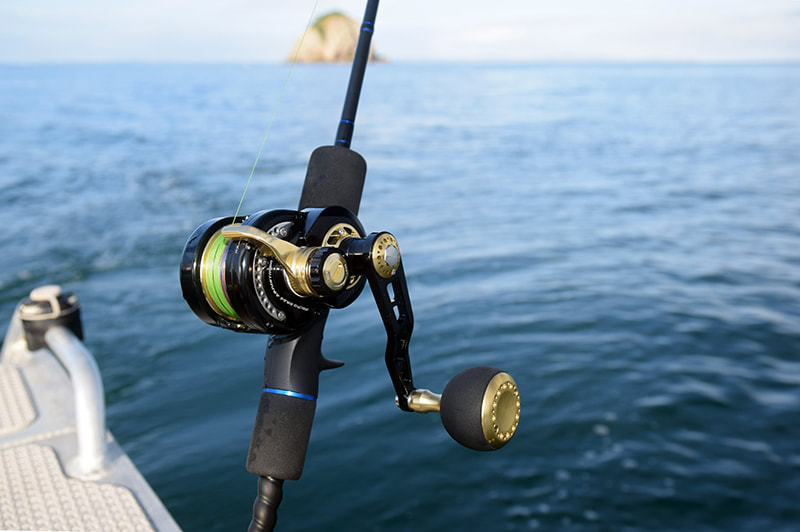 Reviewed by: Tony Dawson

​

SPECS:Maxel Rage 25 H Compact Reel

Stainless ball bearings: 9 + 2
Gear ratio: 6.2:1
Retrieve per handle crank: 96cm
Line capacity: PE2 600m, PE1 1200m
Lever drag system: Strike 5.1kg, Full 7.6kg
Weight 401 grams
RRP: $799.95



Distributed by BCS Enterprises:
P: 04 589 3302 E: sales@bcsent.co.nz

We both arrived in Tauranga the same day, the armful of rods and reels on the courier while I arrived on the midday flight. The rods and reels were Jig Star rods set up with a range of Maxel jigging reels. I had plans to use them rigorously jigging and livebaiting for kingfish, with the assistance of some serious aficionados while the lovely little Jig Star 603 – 2 rod fitted with a Maxel Rage 25H was destined to spend a day or two with me on the western coast of the Coromandel in search of a few nice spring snapper while dropping light jigs.
I had some preconceptions I have to admit, Rob Fort's earlier review of the Maxel Hybrid 20C was nothing short of glowing and with good reason. Rob had punished the reel and had even pulled it apart to see what made it tick. My expectations were high. The Rage 25H (H for high speed) is an extremely well finished piece of quality engineering. Maxel are providers of precision engineered components for other leading brand manufacturers and of accessories compatible with other leading brand reels. The finish on all the Maxel reels was meticulous, finely detailed and designed to shrug off water with their beautiful anodised surfaces. The little Rage 25H reel I used was black with gold metallic detailing. It was compact, solid and tight and by that I meant no slack or play in it anywhere. It is a lightweight at just 401 grams but it is a confidence building handful… but no more than a handful. And it proved to pack a huge punch for such a small reel.
The Rage 25H Compact is comprised of a rigid one piece frame machined from a bar of aircraft grade aluminium, a cold forged aluminium spool, multiple carbon washers either side of the spool, precision machined stainless gearing and 9 + 2 stainless bearings combined with solid cover plates, machined handle and stainless fittings. The drag control is a lever drag system with free spool, a strike positin and a transition to full drag. There is also a fine drag setting control for adjustment. If you like a line out clicker option, that's there too, I didn't use it but it's there anyway. This sweet little reel is a delight to look at, to hold and to fish with.
Looks aren't worth much unless they are backed up by performance. There are two considerations when it comes to performance; the first is defined by data and specifications, the other by the impression created as the reel is used and as it does what it was designed to do in hand and with fish to deal to.
First the numbers. The reel spool will hold 600m of PE2 or 1200m of PE1 braid line on the 25mm wide but relatively deep spool, it is easily thumbed and ergonomically compatible with my fairly average hand size. I even managed to cast well with the reel, not record breaking casts but enough to know I could manage and I'm no overhead reel caster. The spool ran smoothly in free spool and slow jig descents were surprisingly quick. The strike position offers 5.1kg of drag, OK to begin to fight a good snapper and pushing the level through to full drag provides up to 7.6kg of drag. You could manage mid weight kingfish on that with everything going your way. Each turn of the handle retrieves 96cm of line with a 6.2:1 ratio. When flipping slow jigs that makes quarter turns of the handle pretty useful and on the slow pitch 603 – 2 rod the slow pitch action on 40 – 60 gram jigs was superb. Apparently the little reel is OK used with jigs up to 400grams or more.
So how did it perform in the hand? This is the 'can't be measured stuff' that creates a positive or negative impression. First, the line management; simply no issues there at all, no spooling issues and no need to lay line on the narrow spool. The drag system was silky smooth and sensitive through the range from strike to full drag and I believe the drag system is built to continue perfect function when wet. Although not tested with any maniacal runs from errant kingis a few biggish snapper pulled enough string to get a good impression. The reel handle length was comfortable and I really liked the power grip EVA ball handle.
What didn't I like about the reel? Well, I'd have preferred a left hand model. Guess what, they come in left hand models. Another colour? Yes there are colour options, I've even seen a purple model, besides the black, gun metal and gold options online. Was it a complimentary addition to the super soft and yet powerful Jig Star 603 slow pitch jig rod. Absolutely yes, a perfect match. It is ideally suited to those who fish slow pitch flat fall jigs and to those who fish inchiku and kabura type slow jigs as well. In fact if I wanted an all-purpose overhead snapper reel at the top end of the range available in New Zealand I'm not certain I could find better. This little reel is a solid performer, it's superbly made and if Rob Fort is to be believed (and I do believe him) then that applies to both inside and out. Absolute quality and a delight to use.