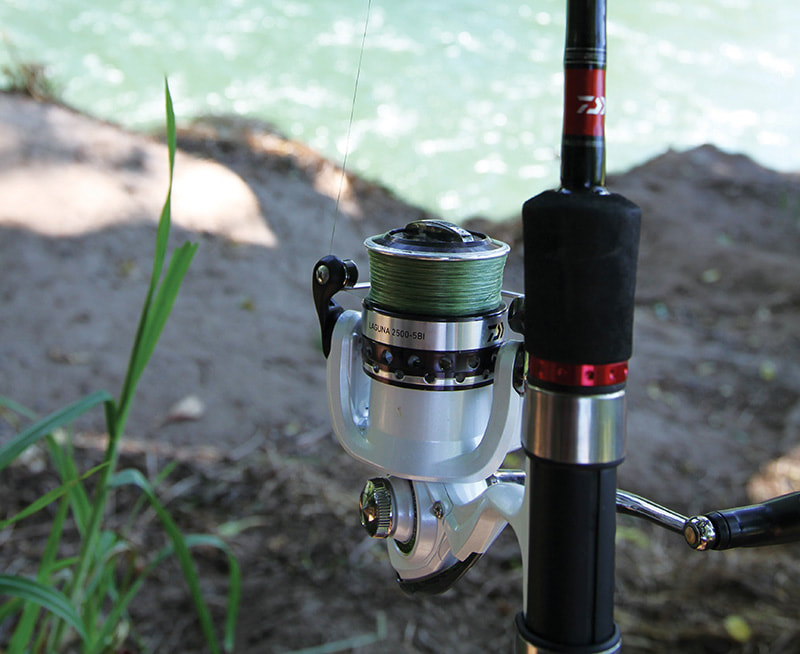 Reviewed by: Mark Armistead

​

SPECS:
Rod: Laguna X 702 LFS
Length: 213cm - 7 Feet.
Sections: 2
Line weight: 3 – 5kg
Cast weight: 4 – 12g
Guides: 7 Single foot stainless/aluminium oxide plus tip
RRP: $119.99

Reel: Laguna 2500
Gear ratio: 5.3 : 1
Retrieve per handle crank: 79cm
Bearings: 5 BB, 1 RB
Drag: 4 kg
Line Capacity: 8lb / 155m, 10lb / 130m
RRP: $99.99


I'd had my eye on the Daiwa Laguna combo for some time; in my mind it represented a genuine mid-price point option in the Daiwa stable. No massive outlay of cash involved, but still good quality and able to cover a wide range of fishing options. The Laguna name has been around for decades and has earned its no-nonsense reputation as a mid-range performer.
What I was really excited about when the combo arrived was the seven-foot rod. I knew straight away that this was going to add some versatility to the casting sets I currently use.
The Laguna LAG X 702 LFS rod came matched with a Laguna 2500 reel loaded with six pound Daiwa X4 J Braid. Over a period of several weeks I used the combo in both salt and freshwater environments, targeting trout in the lakes and snapper at sea. Most of the time I was using the combo for casting lures or dropping light jigs into the depths, and in all cases the combo was up to the task, with a lot of areas exceeding my expectations.
The Rod
At first glance, it's the rod that catches the eye: for a mid-range fishing rod it has the look of a high-end spinning rod. It wasn't just the aesthetics that impressed me with this rod though; it really was up to the tasks I asked it to perform – at least the realistic ones – and it ticked a lot of boxes for me. The rod features a fast action "tippy" IM 6 blank which uses some cutting-edge technology in its manufacture; compared to conventional carbon material the fibres are laid longitudinally with minimal use of resin and then rolled at extremely high temperatures and pressures. The result is a tremendously light but super strong blank, with a profile that's slim but deceptively tough. There's extra strength built into the butt section to handle heavier or feistier fish when the tip folds away; it's a rod built with beginners and occasional anglers in mind.
The Laguna also features a split grip EVA handle configuration with a screw ferrule locking reel seat which moves forward from the rear and leaves a comfortable grip without an excessive fore-grip. The rod is finished with good quality single foot stainless steel/aluminium oxide guides and an attractive modern black and red finish.
Perhaps the most impressive feature was the rod's degree of versatility. One day I could be casting ultra-light bibbed lures for trout, and the next day casting medium jig heads or dropping jigs for snapper. I was surprised to find the rod ultra-sensitive when I used the outfit for catching bait; it easily detected the most subtle of bites. Nothing clunky there at all.
The Reel
The Laguna reel had all the hallmarks of typical quality Daiwa engineering with loads of the features you see on their high-end range apparent, such as a silky smooth feel, with an operation utilising five ball bearings plus one roller bearing. The reel also features a Digigear drive system, and an ABS spool to aid casting and eliminate the likelihood of tangles, while Twist Buster features built into the bail arm and roller, along with Infinite Anti Reverse, take care of any tendency for slack or play in the drive, or of it feeding back through the handle. The reel also featured a one touch foldaway handle, but that didn't feel less than robust either. The reel feels solidly built.
It took me some time to really test the Laguna as early on most of the fish we were catching were just not big or heavy enough to really pull string. That all changed when I hooked a rampaging Mayor Island kingi on the little outfit, however; yet throughout the encounter the drag remained smooth and consistent, with no grabbing at all. I had to crank up the drag and really give the kingfish some hurt to avoid being spooled – and even this provided no performance issues at all, the only drama I had being the inevitable line parting when the fish finally found the cover it was looking for. But you'd expect that with a rampaging mid-weight king on a light spinning setup with 6lb line and a modest 4kg of drag! The only thing I would change on the reel are the aesthetics: being pale in colour it doesn't match the darker colour of the rod range. Fussy, I know!
The best thing about this combo is easily its versatility. I used it to cast lures for kahawai and cast ultra-light lures to trout. I used it to catch bait on sabikis, cast soft plastics and for light jigging, and I even managed to catch some squid on it as well. If you're looking for a nice little outfit to cover a few bases without breaking the bank, I thoroughly recommend checking out the Laguna range from Daiwa. I wasn't disappointed; it's a tough little set that punches above its weight.