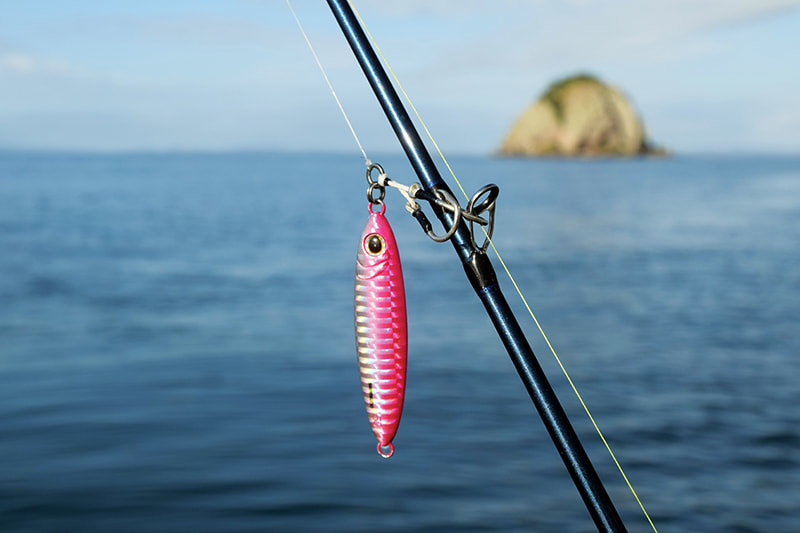 SPECSOcea Stinger Butterfly Pebble Stick Jigs

Weight range: 260 – 350g
Colours: Pink/Blue, Glow White, Green-Gold, Pink-Silver, Deep Purple.
RRP: $26.99 - $29.99

Coltsniper Wonderfall Slow Jigs

Weight range: 30 – 100g
Colours: Blue Sardine, Pink Silver, Green Gold, Red Gold Zebra Glow, Real Anchovy.
RRP: $13.99 – $15.99

The discussion had taken place, a plan had taken shape and agreement had been reached. And then the nondescript brown cardboard package arrived in the mailbox. It felt heavy and made the right noises when shaken gently – I knew what it held and I was like a kid at Christmas as I opened it. There they were, in a smile-inducing array of shapes, sizes, styles and colours.
The good people at Shimano had agreed to provide a sample of the whole range of the jigs and lures they currently supply to the New Zealand market for me to fish with. There was a proviso though… I had to fish them from Stewart Island to Northland, over a whole season, on multiple trips and outings and for a whole range of target species. Well, that didn't seem unreasonable – and actually I did want to get to know the whole range in, well, a whole range of fishing environments. Just my sort of assignment!
Two early opportunities were postponed or curtailed; 'adverse circumstances' are like a shark bite in an inflatable dinghy, really. But the package of treasure was forwarded to meet me in the Bay of Plenty and the Coromandel, so I had plenty to play with on an expedition in November.
I had two Ocea Stinger Butterfly Pebble Stick jigs in 300gms, one in Pink Glow, the other Deep Purple. Although they come unrigged I'd also been supplied with a couple of the Assist Hooks Shimano market as rigging or replacement for their jig range. The ones to hand were 9/0 on 500lb Spectra cord with 11.5mm solid rings and shrink wrapped connections, and they proved to be quality tackle.
The jigs themselves are unlike other offerings in New Zealand: at 21cm long the 300gm model has a length of 21cm and is oval in profile, with two grooves on one side and a slightly-flattened surface on the other. The more rounded surface is finished in holographic colour with small lumo spots embedded in it, along with a lumo eye. The flatter surface is finished in holographic silver.
I didn't follow the jigs down into the depths and so the only indication I have of their falling action was gained in the top metre of the water column, but with a centre of weight slightly forward they do create plenty of flash and an enticing horizontal fall. In the end I decided the kingfish would decide just how enticing they were, and on the first outing to Mayor Island the Pink jig got wet and was very quickly monstered by a mid-weight kingi. Unfortunately the jig was then stolen… by a Mayor Island bronzie who dismembered the king and then took the head and jig as well! The remaining Pink was carefully put away for an outing to the Alderman Pins. At the Aldermans the jig was consigned to 50 metres and on the first jig came up solid, connected to a quality kingfish.
So if kingfish are to be the judges of appeal, then it's clear that Pebble Stick Jigs definitely appeal to kingfish. The performance was repeated several times to eliminate the "fluke" factor.
These jigs are easy to use and they're effective. The assist hooks are robust and enduring and the jig, although only used on a handful of kingfish, has come away without any damage to the finish or to the lumo spots.
Pebble Sticks come in weights from 260g to 350g, and in 5 colours covering the range of NZ favourites.
It wasn't just heavy jigs I'd come to play with in the Coromandel, though. I had a fistful of the new Coltsniper Wonderfall range to play with as well and I wanted to show them off to some Coromandel snapper to see how they liked them. I called on Pete McGregor to meet me with his boat in Coromandel town for a mission up the coast to find some resident snapper and, if the opportunity arose, to take a bit of a look at any workups we might spot out towards Waiheke and to the north.
The Coltsniper Wonderfall range of jigs cover weights from 30g up to 100g and come in 5 colours, again including the favourites in the colour options of blue, pink, green, gold and real anchovy. Wonderfall jigs vary from the previously available range in that the Coltsniper Flatfall designs have flattened faceted surfaces, whereas the Wonderfall jigs have a flattened oval cross sectional profile. You might only notice the difference if you looked carefully at the two side by side. The different profile does however create a different falling characteristic: they tend to initially fall in the horizontal with a rhythmic side-to-side flutter. I was mesmerised and surprised at the slowish rate of descent. They flipped nicely in the lighter weights on the slow jerk rods I was using, too. A heavier Catana softbait rod also had the jigs working effectively, utilising a variety of techniques. Best of all, the snapper weren't too fussy; they were all over them.
The finish on the jigs is pleasing and of good quality, the paint was fairly persistent in its desire to remain attached to the lead core of the jigs, and the lifelike eyes are still all in place – in spite of the damage we all know that snapper teeth and persistent crunching can produce. The Stinger hooks are great too; they remained sharp and the finish is rust resistant; the assist hook rigs are a quality component as well.
We didn't head out wide to chase workups – that would really have had us working hard with the Wonderfall jigs. I picked pink to be the go-to for the day and fished mostly the 50 and 60g models up towards Colville, along the 30 metre fingers. There were good pannies there, with the odd bigger specimen, but they needed to be convinced and each fish was a reward for effort. I have to say that the Wonderfall jigs I fished accounted for more fish than Pete managed using his northern Gulf workup favourite brands, styles and colours. He was just a little miffed about being out-fished by a southerner … but I'm prepared to give Shimano and the Wonderfall jigs the credit.
I'm pleased I have the jigs in a range of weights. I intend to take them with me to the Chathams early in 2018 and see what giant blue cod and hapuka, along with the odd trumpeter, make of them. I'd say they'll be all over them. Then there are the local blue cod who've certainly taken to the 30g models in pink and blue in Foveaux Strait, where we fish in just 40 feet of water. The Marlborough snapper are going to get a look at them in the weeks to come.
Would I go out and buy the Pebble Stick jigs? Yes, yes – I would, they're effective and durable and not overly expensive comparable to others on the market, although they're sold unrigged. That for most people is not a problem of course; many choose to use favourite brand assist rigs anyway.
And the Coltsniper Wonderfall jigs? I'm loving them. And yes; I'll keep replacing my stock out of my own cold hard-earned cash. They're good quality and they too are entirely effective. All over New Zealand on all sorts of target species.
I'll keep you posted.