WORDS and Photos: Colin MacDonald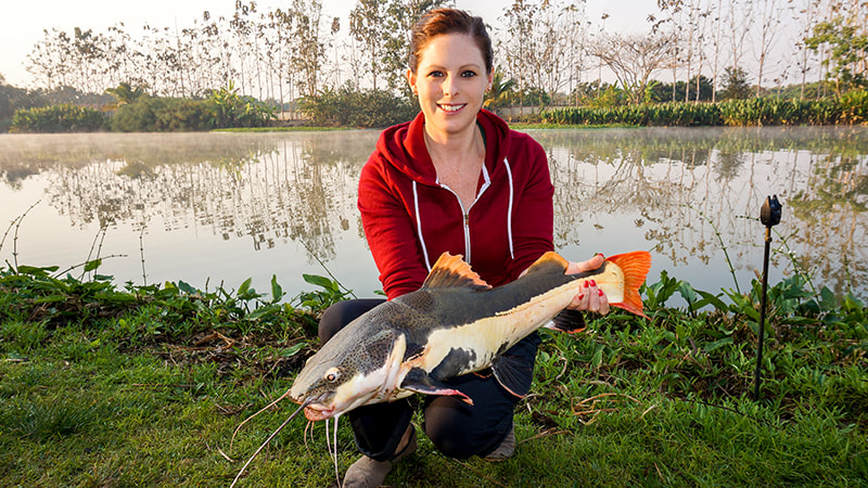 You can't help but get jealous sometimes. It's human nature. When I turn on the TV after a hard day's work and see Robson Green or another celebrity fishing show host travelling to another exclusively luxurious and extremely fishy destination abroad, I wonder how someone can become so bloody lucky!

---
After binge watching these shows, I became quite obsessed with some of the destinations, but more obsessed with the obscure species they encounter throughout their travels. It's amazing to think there are prehistoric monsters living all over the globe that grow to gargantuan size yet live in freshwater. I thought the trout grew big in the hydro canals, but these are something else!
Unfortunately, after doing some quick research, reality set in and I realised just how many dollars it would cost me to follow the same path as my fishing idols. As I dug deeper looking for more answers, I stumbled on an option that made me feel more hopeful – and then I realised there was a viable option to achieve at least part of this dream.
So where do you go to for
fulfill your global fishing dreams at a reasonable price
? Thailand of course.
So Why Thailand?
With legislation a little more laid back in Thailand, if you ever had the idea of wanting to throw a whole bunch of large carnivorous and omnivorous fish into a freshwater dam, let them fight it out and then try and catch the apex predators, it's the perfect place. Fishing parks just like this are situated all over the country and some have species lists upwards of 20-30 species from all over the globe. These parks give you the experience of fishing for the world's most exotic species all together in a pond! In fact, due to overfishing in areas such as the Amazon, you have more chance of encountering the region's species within these fishing parks than you would in their native habitat. If that hasn't stirred some interest, what about the fact that some of the species in these fishing parks grow up to in excess of 100kgs in weight and could pull a kingfish backwards? So under the pretense of having a wedding to attend, I managed to grab my wife, cheap flights and accommodation - then got to the priority task of planning our fishing journey.
Teak Tree
One of the places on the top of my list to visit was the Teak Tree fishing lake.
Set in the heart of one of the most beautiful northern Thailand cities, Chiang Mai, the lake is owned and operated by Bruce and his wife Noon. Bruce is an ex-pat from the UK who had the dream of starting his own fishing park and has done a great job of it.
Bruce has been a keen fisho for over 45 years, and prior to building his dream, he managed a fish farm for 11 years back in the UK. Initially building the dam for his private use, Bruce decided to open it to the public after he realised that his aquatic pets were eating him out of house and home.
As we arrived at our destination for the next three days, I noticed that the pond had only two self-contained bungalows. This, as Bruce informed me, gives anglers the maximum chance of catching the fish of a lifetime. The bungalows we stayed in were comfortable and modern and had all the necessities such as air conditioning and a clean, working 'western' toilet. Trust me when I say this, "Air con and western toilets are in short supply in Thailand."
Bruce understood I was keen to get fishing and we arranged to meet at the crack of dawn to make the most of the morning bite. It's a refreshing change to just roll out of bed, roll open the sliding door and be at the fishing spot. What surprised me more was that Bruce had snuck over under the cover of darkness and had already started prepping the gear to get the baits out. It's not often you can sit back, drink your morning coffee and watch monster fish rolling on the surface. What a way to wake up.
Bruce walked me through the rigs we were using, with the plan to run one 'predator' rod per person. This was setup using a small fish as bait suspended under a float. Most of the large predators spend their time in the upper water column, so the float enables the angler to keep the bait in the feeding zone. The other rod was setup to target 'non-predator' fish who spend their life feeding on the bottom. I must admit I was quietly keen to fish two predator rods, but after Bruce told me some of the non-predator fish in his lake were over 50kgs, I changed my mind.
The rigs we deployed were very interesting – one consisted of either pellets or corn molded onto the sinker (doubling as berley), with bread cut into perfectly defined circles and pushed onto the hook. The other was a pellet sewn onto a piece of braid attached to the hook, with an additional bag of pellets that served as the sinker. These bags break down slowly in fresh water and release a nice little berley trail to lure the fish in to your bait.
The 9 foot rods we were using helped with long casts out into the lake, but also allowed us to control the fish on long runs, as they tried their very best to bury themselves in the heavy vegetation overhanging the banks. Shimano bait runner reels were employed on these rods and were the perfect combination. Bruce had set up bite alarms (these beep loudly when line passes through them), so that I could essentially cast my rod out, click it into bait runner mode and lean it on the bite alarm. Then it was just a matter of sitting back and waiting for the alarm to go off. While you would be forgiven for thinking this fishing would be child's play, like most other forms of fishing, fish moods can be fickle, and we worked hard for our fish over the three days. But we thoroughly enjoyed it.
We managed to catch quite a few amazing species over our three days. The
highlight for me was catching a prehistoric looking ripsaw catfish - native to the Amazon. Unfortunately for me, the fish I really had my heart set on was the Amazonian air breathing arapaima, which tormented me by rolling on the surface continually all over the lake.
Did I forget to mention that Bruce's wife, Noon, is an amazing cook and made sure we very well taken care of during our stay?
Amazon BKK
After our taste of fishing in Thailand, we had a bit of tourist time and did some sightseeing. While my wife went shopping in Bangkok, I continued my research and came across a place known as Amazon BKK.
After navigating the challenges presented by not speaking Thai (thankfully the hotel could help), we managed to book our day at 'Amazon BKK Lake 2'. Amazon BKK has two lakes set up for sport fishing, Lake 1 is for those who love top water fishing. This lake is stocked with big barramundi, tarpon and peacock bass. Lake 2 is stocked with big arapaima, Mekong catfish and loads of other species. After a sleepless night, we dragged ourselves out of bed and met with our driver at around 4am – in order to arrive at sunrise, when the lake opens. To our amazement, we had the lake to ourselves for the entire day.
We arrived and met a bunch of young guys working at the lake who spoke little or no English. They were kitted out with Japanese tackle shirts. And they knew their stuff. We didn't have any gear with us so they handed us each a 7 foot fast action casting rod fitted with a Shimano FX 4000 reel spooled with heavy braid. They then got us to pick out a couple of lures, which ranged from surface lures to vibration baits and soft plastics. These were all set up for catch and release with hook barbs filed down. After a coffee, they left us to get on with the fishing. I appreciated this approach as I love the challenge of having to work through a fishing scenario and strategy on my own. It's half the fun.
During the day the staff would strategically place themselves around the lake and wouldn't be far away with a net when you hooked up. The fishing was very slow at first. I had a few very subtle takes, but couldn't make the bites stick. As the sun started to creep up over the horizon, we noticed a lot of commotion going on in one corner of the lake. The guides ushered us over into the corner as it was time for the daily feed.
To feed the fish, the staff 'chummed' the dam with live fish and told us to throw our lures in. While not a particularly sporting approach, it was an amazing sight to see large fish jostling everywhere trying to get their share. For a period of about five minutes it was mayhem. We would cast into the frenzy, hook up and basically have to run to follow our fish for fear of getting spooled. If we landed our fish quickly enough, we could be back and casting again before the action subsided. Besides getting spooled, the other major obstacle in our way was a small bridge over the dam where, unfortunately, the fish love to run to.
As we brought our fish to the net, it was amazing to see how passionate the guys working at the lake were. They ensured these fish were handle and released as safely as possible, but they would also enjoy the moment with you. If they weren't grabbing your camera to take a photo for you or high fiving you, they were in the water netting your monster. That's something that I love about fishing. It's a universal language.
As the feeding slowed down, so did the bites, but we plucked away most of the day and managed to catch a large number of fish. This included species from the Amazon, Asia and America.
The temperature soared throughout the middle of the day, but there was plenty of shade around the dam, including a few bungalows if you were in need of a siesta. As afternoon light started to fade, it seemed the arapaima finally came out to play. My wife and I both managed 3 or 4 of these beautiful fish each, in reasonably quick succession. I had a chance at the monster I came to Thailand for, but unfortunately the hook pulled after a searing run that had me running a good 100m down the side of the lake -- what an animal!
Albeit a short adventure, it was amazing to get a taste of what some of these exotic species are like and to have them accessible at such a low cost. With these dams all over Thailand, it's not hard to line up the perfect family holiday with a bit of fishing on the side. I know I'll be back to catch that alligator gar.