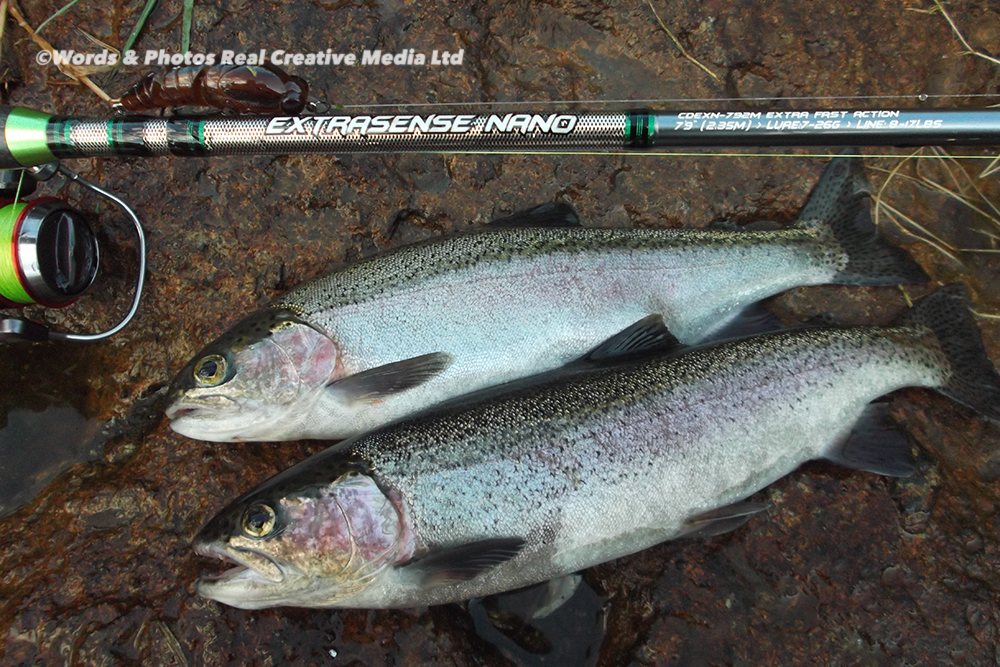 Jigging combo for inchiku lures & small jigs!
If you are into using inchiku lures and smaller size jigs to 150 grams then this rod and reel combo is ideal for your fishing style.
​

Reviewed by Terry Clynes

With a long-weekend Lake Rotoiti fishing trip booked in I was pretty keen on taking out and testing the new lure rod from Composite Developments ... and I'm glad I did! What a great rod; here's why.

I fished the Kaituna River from the control gates at the top almost exclusively over the four day trip and picked up quite a few fish each day - all of them rainbows in the 35 - 40cm range and all in prime condition. I did see a few better-sized fish but because of the heat they were lying deep in the colder sections of the river.

The extra sense nano is definitely a "bling" rod (god I hate that word!) with shiny metallic grey paint, black and green guide binding material and anodised green ring highlights.

Its Fuji carbon reel seat is contoured on either side, giving a great hand feel; it holds the reel off the rod allowing for more feel and sensitivity, it looks great and the carbon fibre before and after the seat finishes off the rod nicely.

Because of the nano resin used during the rod building process the rod is very light and very sensitive- hence the name Extra Sense.

The guides are Fuji micro guides and because of their micro size they make the rod feel lighter than others on the market - however if you're using braid make sure you don't have too long a leader, and tie a nice small knot like a 5 turn surgeon's knot, as the small upper guides will catch and slow down your line. My leaders are always about 800mm long and my joining knots hang out of the top guide.

The rod cast my 5gm savage gear larvae lure brilliantly, giving good distance and great accuracy and, best of all, not a single wind knot! When connected to a fish the rod did everything I wanted it to: it played the fish nicely with its full parabolic action so that I could feel everything the trout was doing. Landing the fish was a breeze; I was just using the rod to beach them and didn't feel like I was in any danger of point-loading the rod.

So overall: no serious complaints other than the "bling" factor. I give it a hearty 8.5 out of 10 and to be honest it's going to be hard to give it back as I hope to go chasing big salmon down on the Mainland and this rod would be a whole pile of fun for that!