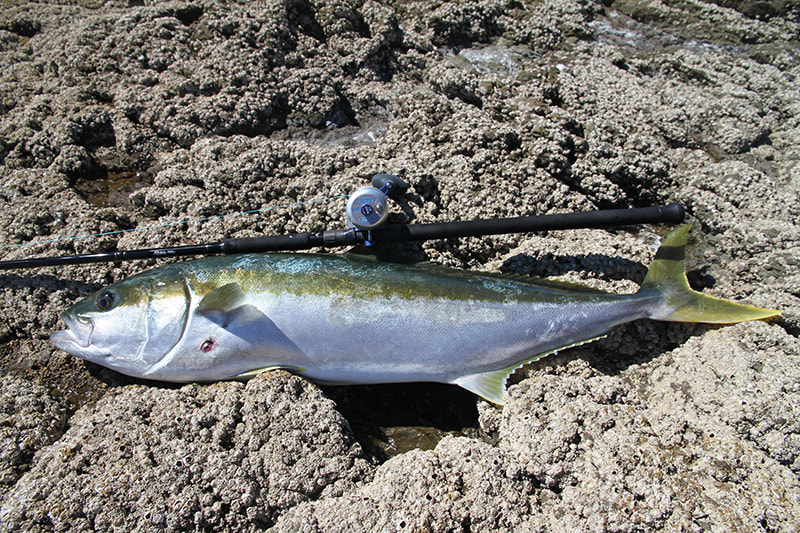 SPECS:Accurate Boss Extreme 500 X

Weight: 22 ounces / 625 grams
Gear ratio: 6.1:1
Line retrieve per crank: 45inches/114 cm
Maximum drag: 30 lbs / 14 kg
Capacity: 30 lb mono - 434m/50lb braid – 434 m

It all started when my friend showed me a YouTube clip of a guy fishing with an overhead rod and reel, casting lures to some very big giant trevally on an isolated island in Japan. Not at all influenced by aggressive marketing tactics… I went straight online and ordered the PE 8 Ripple Fisher rod from a store in the USA. Now I had to find a castable overhead reel that had a heavy enough drag to handle our resident kingfish.

I did some research and came across a reel from Accurate that ticked all the right boxes. I had never used an Accurate reel before. I was instantly impressed by the quality of the components and by the fact that it was, without doubt, incredibly powerful for such a light weight reel. The Boss Extreme series has the patented twin drag system synonymous with Accurate reels as well as six ABEC (class 5) stainless steel ball bearings, stainless steel gears and a stainless ARB bearing. That may just sound like gobbledegook to you, but they are components which are representative of the highest standards of quality and precision in US manufacturing. It also has a longer, stronger gear shaft for increased torque, all equating to one great reel to target big, powerful fish off a boat or off the rocks. The reel has a polished aluminium finish, built for practical use and hard wear rather than for beauty pageants, and is a single speed (although there are 2 speed BX2 models). Also featured are a robust but sensitive lever drag control arrangement and an excellent line out alarm clicker which is perfect for what I had in mind – live baiting and straylining for trophies off the rocks.
In my case, I needed a reel that had a magnetic cast control so I could use it not only for live baiting but also for casting lures and dead baits without the reel over running. Not only does the 500 X have great cast control, but it also has a sleeved spool for increased casting distance. The icing on the cake was the maximum drag of 14kgs which is plenty to slow down a marauding kingfish.

That 14kgs of drag was put to the test on the next outing to one of my favourite kingfish spots. The first opportunity came when a kingi of about 80cm came into the berley trail looking for a free feed. I was able to use the cast control to cast a whole sanma right in front of the fish's nose and it was snaffled instantly. I was astounded by the smoothness of the drag under load in an off the rocks battle. I would have to say that it was up there with one of the smoothest drags I have ever experienced. The combination of the rod and reel made short work of the small kingfish. I decided to change tactics after securing a small kahawai for a live bait. I sat it just off the rocks and within 5 minutes it had been eaten. I knew straight away this was going to be a much bigger challenge for the combo, but once again, I was pleasantly surprised. I was able to put some serious hurt on this fish. And when the fish needed to run, the drag was, again, smooth as silk. I was falling in love. Initially I was thinking this piece of kit was in the category of, 'a good big snapper reel,' but I was realising that this was a serious reel able to do the damage on some solid kingfish. In this case I landed a good fish of around 20kgs.
​
The reel has become a firm favourite in my arsenal, and I am looking forward to using it for a very long time. My next job is to test the Boss Extreme 50, big brother to the 500 X, on some XOS kingfish. From what I have seen so far from my current range of Accurate reels, I anticipate that it will be up to the task.