---
There is no question that one of the most exciting fishing methods for catching pelagic fish ̶ primarily kingfish but including tuna and even marlin ̶ is stick baiting. The crash of a belligerent, hungry, aggressive fish onto a surface lure is a sight to behold, a sight that will remain with the angler long after the event.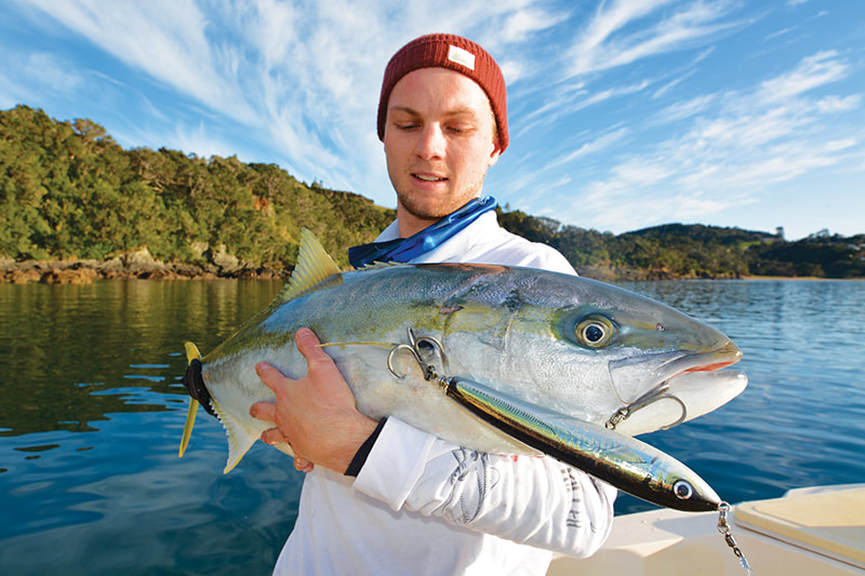 ---
​The great thing is that this technique can be used successfully at locations easily accessible to trailer-boat anglers as well as land based anglers. Really, all you are looking for is an outcrop of rocks or a point where there is good current. Look around you. These spots abound. You can work your lures right along a rocky water's edge. Early morning fishing is best. ­
Kingies also love drop offs. One of my favourite spots combines both, a rocky outcrop where the water is largely shallow at 10 metres or less, but once round the corner there is an abrupt drop from 16 metres to 80 metres. Sitting the boat over the deeper water and casting back to the shallow area works a treat and has resulted in some great fights. Kingies love structure, any structure; they love to lurk in ambush. So casting stick baits round a navigational buoy can also be rewarding.
You should also look out for workups. Even schools of trevally eating krill will attract kingfish. Cast around the edges of the school ̶ don't drive your boat into the school. That will put it down and earn the ire of other anglers. Be particularly aware when a school splits. I can pretty much guarantee that there will be kingfish in the gap between the two schools.
Another advantage of stick baiting is that generally it will get you bigger fish than jigging in the same spot. But if you are getting no hits, try using a jig for a while to raise Kingies to the surface. It's not a bad idea to alternate the two techniques, anyhow, as they work on different muscles which can make quite a difference to your endurance.
My thanks to Luke Davis for helping me prepare this gear guide.

Rods
Stick baiting rods should be 8' to 8'6" long. The length is the key to casting; the furthest cast gets the fish. Rods should have a soft tip over the first two guides, but have a powerful butt end. Fuji make the preferred guides which should be larger-sized to assist with casting. Rods range in price from $200 to $1,500. For this type of fishing, get the best gear you can afford. The main brands like Shimano and Daiwa make good quality, affordable rods. Those with a more generous budget could look at something like a Carpenter or a Smith.
Reels

Reels should hold at least 200 metres of line. The go-to reels are the Shimano Stella and the Daiwa Saltiga, although other brands also make good products. Again get the best reel you can afford and look for smallest reel with biggest, smoothest drag. A high retrieval speed of 5.7 to 6.1 is ideal but most importantly look for smooth drag. You can expect to pay between $800 and $2000 for a quality reel.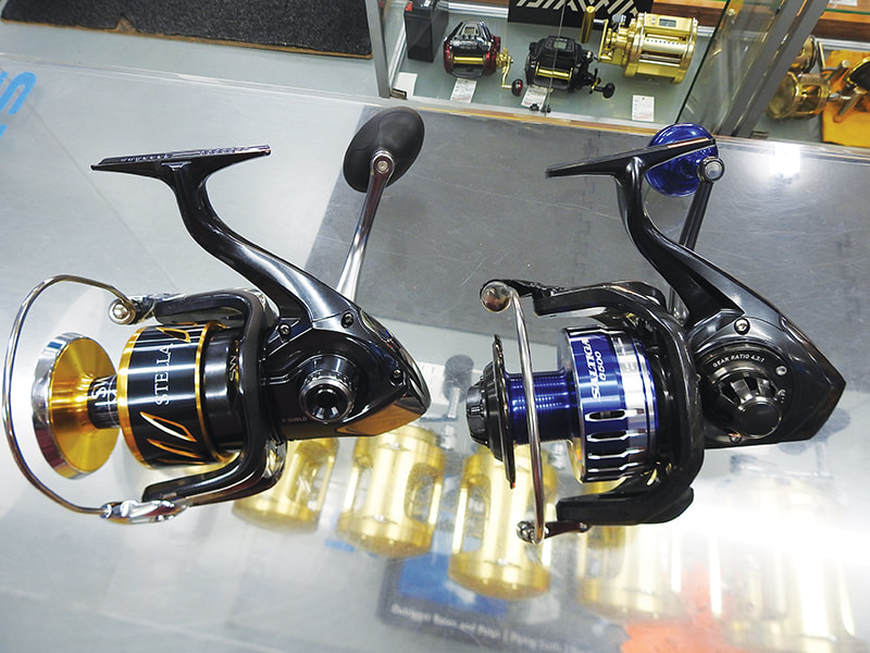 Line
In this class of fishing the angler is looking for PE rating rather than breaking strain. PE rating is the thickness of the line. Use PE6 for lure weights 60 to 120g. PE8 for lures rated 100 to 160 grams. Line thickness is a trade-off. Thinner line will cast further and perhaps cut through weed; however, kingfish are crafty and love to reef you and bust you off. So heavier can be safer.
Your leader should be 100 to 140 lb when combined with PE6, or 140 to 200 lb on PE8. Mono leader like Varivas is best. It is on the water surface so cannot be seen, makes better knots and as a consequence, is better for casting. A one-metre leader length is plenty and means that the connecting knot is not rattling through the guides when you cast. Use a longer leader if targeting marlin (good luck!). Connect the leader to the braid with either an FG or a PR knot. If using the FG knot, use supple fluorocarbon as the braid beds in better. Look online for the instructions for tying these knots. I prefer the FG, but there are several ways to tie it shown on fishing how-to sites. Some methods are amazingly complex, while others are relatively simple. So find one that works for you, and practice so you can tie it in a rocking boat in a hurry with shaking hands.
Lures
It is important to get the correct lure weight for your rod. Each rod has a manufacturer's recommended lure weight range. 20% less than the maximum stated lure weight is best, but you can use lures up to 50% less than the stated rating. You can cast light lures on a heavy rod, but not heavy lures on a light rod. Lures range in price from $50 to $300. Buy the best you can afford ̶ actually, buy the best you can afford to lose! There is no doubt that any lure will catch fish on a good day, but on a hard day, the expensive top brand lures will come into their own. The difference is the R & D that has gone into the design and manufacturing techniques. Top brands like Carpenter and Zeets are expensive, but, boy, they swim great and swim easily, the result of years of development and testing. More mainstream economy brands tend to pump out new models of lures each year with less development having gone in to the product. Floating lures will produce better results than sinking lures. Rattles in the lure catch only shopping anglers.
Attach the lure to leader with a 4 or 5 turn Uni Knot.
Some lures come with trebles, others with single hooks. Beware of replacing trebles with singles, as this may affect the way the lure runs in the water.
Tips:
If buying cheaper lures, replace the hooks with top quality barbless trebles (see photo) and while you are at it, replace the split rings.
Crush the barbs on existing hooks. It makes it easy to release fish, and much easier to remove the hook from the angler should and accident occur.
A rubber band controlling the belly treble makes for safer easier casts (see photo below).
Purchase a good quality pair of gloves to protect your fingers.
Remember the longest cast catches the fish. Practice, practice, practice.
Ok, having said all that, let me give a couple of words of wisdom. If you are nudging retirement, don't let a keen salesman talk you in to a super-duper heavy-grade PE8 rig. You are unlikely to need or be able to utilize its potential. Leave that to the macho young bucks. In fact that type of rig will probably put more hurt on you than it will on the fish! Tony Huang from Yeehaa Fishing gave me great advice when I was in the market to upgrade my Stick Bait rig a few years ago. He showed me how my existing heavy rod was tough on my 60 year old body and demonstrated how my eventual purchase, a Daiwa Saltiga S-Extreme PE6 rod rated for 30-100g lures, had a softer action that was much more comfortable for me, and it suited my budget. I have combined that with a Shimano Stella 10000 reel. This set up has worked really well for me resulting in some nice fish into the mid 20 kg range. If I should one day encounter a 45 kg monster, so be it. I will do the best I can, with luck ̶ who knows?

Technique:
Cast long. Cast with the wind, not into it. Take up the immediate slack line. Sweep the rod in a flat motion to the side. The sideways motion keeps the lure in the water, whereas an overhead pull will often make it skip. Then as you move the rod tip back towards the lure, wind in the gained line. Repeat. Pause from time to time. A stationary lure bobbing up and down is often irresistible to a kingi. Gradually work the lure back towards the boat or shore. Work it right to your feet. Cast again to a slightly different area. Avoid skipping the lure completely out of the water. Work across the face of the rocks rather than straight in towards them. That is the way the kingfish will be travelling. Be aware that often you will spend hours doing this during the course of the day. Alternating with jigging will "spell" you and may help raise fish to the surface.
Your technique after a hook-up will largely depend on the terrain. The important thing is to keep the hooked fish away from the bottom, rocks or weed. A short pumping action will often turn a fish. The boat skipper can help by slowly driving in to deeper, safer water while you lead the fish. Sometimes they seem oblivious to this trickery.
When landing the fish, be very careful of those hooks; an angry kingi can be very dangerous on the boat. Lifting the fish in to the boat using a short gaff hooked through the lower jaw can work well. Otherwise grasp both the lure and the tail. During the day, you will probably catch many small fish, remember the minimum limit is 75 cm. Take just one fish home per angler, a metre-long fish will provide a stack of food for the family.

Kingies are great eating. They make excellent sashimi, great raw fish dishes and a kingi steak is hard to beat. Just brush with olive oil and cook quickly each side, leaving the centre of the steak pinkish. Serve on rice or a salad.
You will remember forever the moment the stick bait was struck by a big fish. Kingies are pretty robust and seem to be largely unaffected by quick photo opportunities before being released. Chances are you will get heaps of these opportunities on a good day stick baiting.