---
Trolling ̶ it's easy to use the term and have others totally misinterpret your meaning.
There is the corporate or political trolling which is making a detailed and exhaustive search for something, some piece of information to use or someone to recruit ̶ or to blame or discredit. Then there are those who go trolling on social media, making provocative comments, stirring up discord and generally being a divisive nuisance. In the fishing sense of the word, there are also several kinds of trolling. In saltwater we generally assume a boat is towing resin and plastic lures for gamefish or perhaps a live bait is very slowly trolled. Freshwater trolling for trout is also well-established and a very productive way to catch fish, but it is not widely practiced, and there always seem to be plenty of enquiries about how to go about, it or more specifically, how to troll for trout successfully. Such enquiries are usually made by those new to boating or to fishing or both.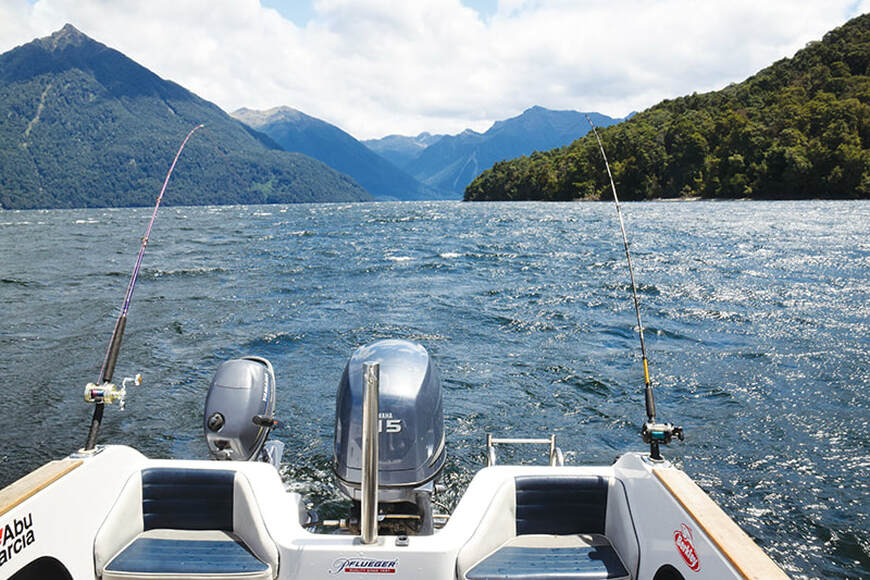 Trolling is not everyone's cup of tea, irrespective of whether it's in the sea or on a lake. There are plenty of fishers who have experienced fishing using the technique and who will tell you how exquisitely boring it was. But then there are those who love both fishing and messing about in boats, those who are pretty keen to put fish in the chilly bin for the table, the barbeque or the smoker, and those who enjoy the laid-back social atmosphere of a cruise around the lake with family or friends, perhaps a cold drink in hand with every chance of a bonus fish or two thrown in. I'm one of the "I like fishing and I like messing about in boats" demographic, and over 35 years, have refined the techniques to the point where it is a very unusual occurrence to come home empty-handed. It's mostly about knowing the environment, the fish, the boat and the equipment and how to make best use of it.
The Fish
When trolling in freshwater, the primary target species are rainbow and brown trout, land- locked Quinnat or Chinook salmon and, as a bycatch, perhaps red fin perch, or in estuary systems, kahawai or perhaps the occasional salmon entering the river systems. In the North Island lakes, rainbows are predominant, while in the South Island, the species are more evenly-balanced especially in the Southern and Fiordland lakes. Salmon are more occasional catches in both the lakes of the South Island and in estuary systems. Perch are present throughout the country and kahawai are present in most of the county's estuary systems much of the year, although they are really a more occasional visitor in the far south.
Trout are quite sensitive to water temperature and will seek out water in a lake which is cooler and also high in dissolved oxygen content. This means they will often remain at depth in the lakes or use the thermocline between the warmer surface water and the cooler, deeper water as a boundary within the water column, below which they prefer to remain active and feed. To a degree, that indicates the best places to swim your trolled lures.
​
The Environment
The environment delivers the elements a trout needs to survive, clean, cool and well-oxygenated water and a reliable food source along with suitable locations to reproduce. Understanding both the trout and their interaction with the environment will help to make the effort and the technique and equipment choices the most effective at any given time and in each particular location. I don't pretend to understand the environment in the Central North Island or the Rotorua Lakes, but I know how the whole ecosystem and trout interaction works in Southern New Zealand lakes, so that will be my reference here. What I share with you is information and knowledge which is transferrable.
Trout will seek cooler water at depth and below thermoclines. They will seek out highly-oxygenated water around inflows to lakes from rivers, streams and waterfalls. They will congregate at river mouths prior to spawning. They will be wherever there is a food source which they can exploit. Knowing where they are will mean you can troll your lure "in the zone," and knowing what they are eating will help with lure selection. It's ironic that we know that a large part of North Island lake trout diets are made up of smelt, while in the south of the country, smelt are not present in lakes ̶ bullies and juvenile trout fill that food chain niche to a greater extent. Those titbits of information determine what lures will be most effective. While trout congregate prior to a spawning run, they are quite territorially aggressive, and flashy metal lures are much more effective than baitfish imitations, certainly when rainbow trout are the target species.
The Boat
The vessel used as a platform to troll for trout may range from a modest dinghy to a substantial power boat. Minimal disturbance is a consideration. While a large launch will provide creature comforts for the anglers, a smaller boat with an electric motor or a well-tuned outboard at idle will probably produce much better results. I like the in-between option. We use a 19 foot fibreglass boat with a four stroke engine operating at low RPM. It is quiet and provides plenty of room and comfort, including respite from sun, rain, snow, wind and sandflies, whichever prevails at the time. The vessel will need to be able to operate at a range of speed from 2 to 4 knots with ease.

The Equipment
When trolling lures for trout, there are two options for rods and reels, either a trout spinning rod as would be used to fish in a river system, or an overhead reel with a matching rod. In some places, there is a preference for large drum reels on quite stout rods. What determines the weight of the rod and the type of reel is primarily the type of line you intend to use. I use two set ups for trolling. The first is a 1-3 kg 7-foot spinning rod and 2500 spinning reel spooled with 15 lb braid and a two metre, 8 lb leader. The second is a 6-foot 6-inch 4-8 kg rod and overhead TR200 reel which will accommodate 100 metres of lead core line and backing, a three-metre 8 lb leader completes the set up. The overhead rod is heavier because of the weight of the lead line, but it also needs to have a soft and sensitive tip so that the action of the lure is visible at the rod tip while it's working. That way, if there is any weed or debris on the lure preventing it fishing well, it becomes immediately obvious. A lure trolled with any weed or debris on it at all just will not catch fish.
Lead line comes in two basic weights, 18 and 27 lb test. The higher line test is also slightly heavier line. Lead line is actually a lead core within a hollow braided covering, almost as if someone had threaded fine lead wire into hollow braid. It usually comes coloured in 10-metre segments which is helpful. The best suggestion I could give you here is to use heavier lead core line and a long leader, 3 metres as a minimum. The depth your lure will run will depend on the amount of line out, how high above the water the rod tip is, the weight of the lure and whether it has a bib on it assisting it to "dive" and the speed at which you troll it. Getting a successful combination of all of those has a surprisingly big influence on the success of the trolling technique ̶ there is definitely a "sweet spot." More on that shortly.
The lures you choose to troll are made of different materials and weights; they come in a wide variety of colours and patterns and a variety of design configurations ̶ all of which determine their action. I've found lure choice is a fairly important consideration, but I'd actually be happy now to have just five or six to hand when trolling. Three basic designs and just a few colours have proven to be incredibly productive for me, both in the Fiordland lakes where both brown and rainbow trout are the staple, and in Southland's estuaries where I target searun trout and kahawai when they're about.
The lures I would want on hand are: a black and gold metal spoon or wobbler pattern preferably with a red tag, a Rapala X-Rap CD5 in a trout or muddler pattern, my favourite but now discontinued Berkley 3B Walking Stick in Pointer pattern, and the final three most universally productive and useful lures, the Rapala X-Rap 08 Slashbaits in deep diving and shallow diving configurations and in the "Silver" colour pattern, and a red and black 8 cm Tillins Cobra lure. They each need to be fished slightly differently to be most effective. Every fisher who regularly trolls for trout will have a list of favourites. I just stick with those I've managed to fish most productively.
The hooks your lures are fitted with can often be varied. I don't personally have an issue with trebles, but there are those who do. I tend to kill and take trout to eat, so damage to fish is something I can work with. If trout are able to be released easily without damage, then they usually are, as I tend to be quite choosy about the individuals I will put in the chilly bin. Single hooks work well on the metal lures, and the Cobras, but not at all well on the bibbed, hard body lures. The split rings and treble hooks need to be in top shape and very sharp, so I keep a full range of replacements and regularly maintain my lures.
Bibbed hard body lures can be trolled without using swivels connecting the leader to the lure, although I do use a micro snap to allow freedom of movement on the line. Metal lures and Cobras or Tasmanian Devils cannot be trolled without using a swivel to prevent line twist creating problems. Most swivels available are big and clunky, and are a combination of a snap and a swivel. Believe it or not, lots of chunky rattley hardware close to the lure will seriously impede the productivity of a lure ̶ small details really matter. Use small silent and strong swivels; avoid snaps unless they are micro-sized.

Using the Equipment
If the goal of trolling lures for trout is to target fish near the surface ̶ perhaps at the outflow of a stream, river or waterfall where there is oxygen rich water and a food source, or perhaps in the shallower water around a shoreline, drop-off or weed-edge, or where fish are congregating before spawning, then it's not important to use a lead line or a device to get lures to run at depth. A spinning rod and braid or monofilament main line will be fine. To get the lure to run at a metre or less, you could use any lure; to get it to run at up to 3 metres deep, a bibbed deep diving hard body lure will do the trick. Some lures troll much better with the rod tip closer to the water, and rod holders are available where the rod is positioned horizontally rather than vertically while fishing. It's always exciting to sit and hold the rod while trolling with a light spinning rod, especially if you are fishing within an estuary ̶ searun trout hit decisively and hard. In a lake, following a shoreline is always productive in perhaps 5-10 metres of water ̶ a trout will see the lure and come up or in from a distance to take the lure quite readily in clear water. Trolling around submerged gravel river deltas is also productive. Hard body lures run straight with a fast rolling motion and the action can be seen and felt through the rod tip. Metal lures have more of a sweeping and rolling action, while the large Cobras and Tassie Devils have a wide sweeping action which varies with speed and can also be seen and felt through the rod tip.
To get a braid or monofilament line set up to run deep below a thermocline or at significant depth, a downrigger will be required. The lure is let out to the desired distance behind the vessel and then a clothes-peg type of release clip is attached to the main line. The downrigger weight is lowered to the required depth and trolling commences. When a trout takes the lure, the rod, which is bent over with line under tension to the release clip, will stand upright momentarily, and then bend again as the weight of the fish comes on. In the Fiordland lakes, the thermocline is usually about 4-6 metres below the surface and I set the downrigger at 6 metres. A fishfinder with sensitivity, or gain set to high, will quickly reveal the thermocline. This technique will work at quite significant depths and perform satisfactorily. You won't be able to see or feel the lure working though. A paravane can be used to take a lure to depth; the mainline is attached to the device, while a long leader attaches the paravane to the lure. It's all a bit clunky and lacks subtlety, though, and the trout will know something is up.
If getting your lure to run at depth is a requirement and depths of 6 to 8 metres is what you need to achieve, then the overhead set up and a lead core line will serve you well. With 80 metres of lead line out, I can get a Cobra lure to run at 6 metres depth and the rod will still "nod" to indicate that the lure is working effectively. If the nodding stops, then something is wrong at the pointy end. In deep water, you will only need sufficient drag set on the reel to prevent line running out; the weight of a lead line will effectively hook the trout for you. The drag can be adjusted after a hook up and the initial run. To get the lure to run deeper, you could slow down, but then you may not get the lure to run with the optimum action. More line out will add a little depth.
I have found that for the lures I have listed for you, the optimum trolling speed is 3 knots. If that fails to be productive, I'd add speed in half-knot increments until you get a vigorous lure action going or some fish catching action. There will be a speed sweet spot that suits the lure, the depth and the rod and, of course, the fish.
While trolling, continuous, subtle zig zagging is a strategy that will pay dividends. The lures cover water the boat has not crossed over, and the speed and direction of the lures has some variation. These variations definitely do induce strikes. If little is happening, I often get a crew member to pick up a rod and give it a sweep forward; it often results in a hook up. I'm convinced that trout follow lures without biting for long distances; subtle variation is key. It never ceases to amaze me how seemingly small and subtle changes and details pay big dividends. For instance, I've discovered that in an estuary, when fishing an incoming tide for searun trout, that it is always more productive trolling
with
the current, even if the lures are moving relative to the bottom at 6 or 7 knots, rather than trolling
against
the current, or for that matter, against the breeze. A half a knot difference between three knots and 3.5 has made all the difference at times. Re-rigging a belly-mounted treble hook at 120° clockwise or counter clockwise on a split ring and the lure, has made a noticeable difference in fish-catching ability, and a red tag as opposed to no red tag will make a difference some days.
Small details make a big difference, so fine-tune your set up, your technique and find the sweet spot considering all the variables. Anyone who has fished with me will know I'm always watching the rod tips ̶ they tell a story about that sweet spot and about what the fish are up to. And don't forget, the more you practice the trolling technique, the luckier you will become.