---
In the last issue we tackled the topic of the anatomy of hooks and the terminology associated with them, in order to provide some insight and knowledge so that the decision to purchase specific hook types would be with a specific use and purpose in mind.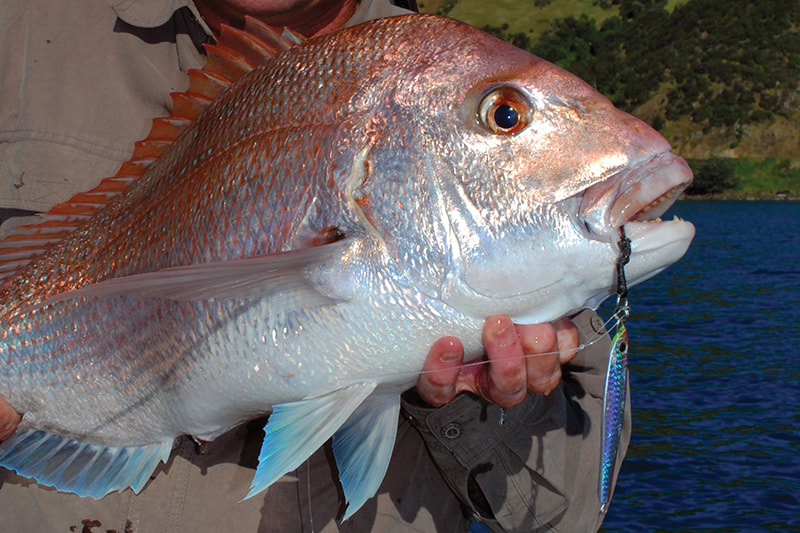 ---
​​In this issue we'll further consider the humble fish hook, but with the aim of understanding what differentiates hooks in terms of the processes involved in their manufacture, the materials they're made of, their size, strength, finish and the way the points are formed. Armed with this knowledge and understanding you'll be equipped to make quite specific, strategic decisions when purchasing hooks. You'll also realise why some hooks command a much higher price when the materials, manufacturing processes and finish are considered. Not all hooks are created equal.

Materials Used

The steel used to produce hooks is varied to provide certain desired characteristics – but while this aim is achieved there are often penalties encountered as well. Basic hook manufacture uses steel, a blend of iron and carbon, and the way to prevent the rust problem with hooks used in saltwater environments is to make them with stainless steel. The anti-rust properties of the hooks increase with an increase in the amount of nickel alloyed with the steel to produce stainless steel. Unfortunately the increased nickel content also produces brittleness, and a reduction in overall strength. And a stainless hook left in a fish which escapes will not rust out, which creates an ethical dilemma for many anglers.
The way to overcome the brittleness and strength issue inherent in stainless hooks is to use high carbon steel in their manufacture. The higher the carbon content, the harder the steel. They will be prone to rust, but they'll have much greater strength and flexibility and so can be reliably produced with thinner gauge wire than stainless hooks, for the same strength. So we have much lighter hooks with much better penetration properties.
Stainless hooks are expensive, while carbon steel hooks are much cheaper, so most of us are going to be using carbon steel hooks – but now we've got the rust problem to overcome. That comes down to storage and management, by and large. With dry hands, remove just one hook from the packaging and return the rest to a waterproof storage container. Never store used hooks with unused hooks in the same container, and consider discarding (safely) well-used hooks. Otherwise, wash used hooks thoroughly and dry them well, before storage and re-use.

Manufacturing Process

The manufacture of hooks starts with measured straight lengths of wire, cut into pieces. A point is then formed or cut at one end, and the eye formed at the other. Now the wire is bent around a former, or jig, producing the particular shape required. The wire is quite soft and malleable at this stage; you could bend it with your fingers. To make the hook strong and rigid, manufacturers will often cold-forge or compress saltwater hooks – this may produce a flat-sided cross section profile through the wire. They're then tempered, or heat-treated.
This is a critical stage in the process. Tempering alters the metal at a molecular level, concentrating the carbon and removing impurities. (There'll be an optimum temperature for each composition of steel and each gauge of wire.) The hooks are then carefully cooled and intermittently dipped in oil; once cooled, the hooks are ready to be coated and sharpened.

Coatings

Stainless steel hooks don't require protection from corrosive salt water, but vulnerable carbon steel must be coated. These coatings vary; the most rudimentary are bronze-based and offer minimal corrosion resistance. Nickel, zinc and tin-based coatings offer much better protection, while state-of-the-art proprietary coatings such as Platinum Plus or PTFE, similar to the non-stick finish on fry pans, render a hook close to corrosion-proof except for the sharpened point. Some finishes are simply sprayed on, but others are applied in a bath where hooks are submerged; while the more resilient finishes may be baked on. The process and the technology will be reflected in the price you pay, but will also be apparent in their ability to resist rusting. And there are colours –to suit your personal preferences as much as anything: silver, black, red, while for PTFE a grey finish is usual.

Hook Points

The most basic hook point is a needle point. It's round in profile and has no edges. It's simple and cheap to produce, but the point is vulnerable to bending and blunting – although it's easy to sharpen with a diamond file or hook sharpener. Variations on the theme are needle point with and without barbs, or with micro barbs, which are sliced from the inside of the front length of the hook.
Then there is a simple sliced hook point. It's a slice through the cross section of the front length of the hook at an angle, and produces a point with elliptical edges. It's also simple and cheap to produce, and comes in barbed and barbless.
The more complex points are knife edge points. They're cut into the point of the hook using micro milling and laser technology, and they may actually comprise up to four sharpened edges emanating from the point and may even incorporate the barb in some way. The advantage is superior hook penetration into hard bony surfaces. Barbs are required to hold these hooks in place; they'll cut a path on the way into the mouth structure, and they can cut their way out again. The Black Magic DX Point hook is one such technological marvel, and they boast a PFTE coating as well – top-end stuff.
Hook points may be long or short, and angled toward the shank of the hook, making them beak point hooks; or away from the shank, making them a Dublin point; or something neutral and parallel to the front length of the hook. Hook points may be offset to the right or left as well.
You may come across the term chemically sharpened; it suggests that the hook point has been treated with a corrosive chemical which eats away at the metal to produce a sharper edge, or point. Too much chemical for too long actually begins to dull the hook point though: there are quality chemically sharpened hooks and then there are others … choose a reputable brand.
There's another process you may encounter in packaging and promotional material: laser sharpened. As the name suggests, high energy laser beams are used to hone the point and edges of the hook.
Keep in mind that it's the hook point that's always going to be the most vulnerable to rust and to damage. Blunted, rusty and bent hook points won't result in solid hook-ups. You can attempt to sharpen most hooks but unless they're sizeable (as is the case with game fishing hooks) replacement is the best way to go if you can't get your hook to penetrate and hook fish. A close-up inspection will often reveal the hook point problem, and a hook point that won't "stick" when gently drawn across the thumb nail is probably bent or too dull to be effective.

Hook Sizes

Those unused to the hook sizing conventions often have a bit of a struggle with interpreting hook sizes. We'll try and get it sorted for you. Let's assume a modest sized hook is given a benchmark value of 0. If you want a smaller hook than that, the numbers will increase. I know, that doesn't make sense; but stay with me. A size 6 hook is smaller than a size 5 hook. Really small hooks, such as you might find fly fishers using, are in the order of 14's, 16's and 18's. If you were to want a bigger hook than a size 0 you'd find that as the hooks got bigger so would the numbers, but in this case they'd be followed by /0 to indicate increasing sizes. So, a 6/0 is bigger than a 5/0 hook.
That's hook sizing, but there are a couple of other conventions that are used which can also cause some confusion. If a pack of hooks is marked as x2 strong it doesn't mean they're twice as strong, but that they're made from the thickness of wire that belongs to the next biggest hook, x3 you might expect the wire thickness to be the same as two sizes up. I know … whoever dreamed this up? There is more, there are also x2 long hooks. This means, as you might imagine, that the hook has a shank length that's twice the normal length for that size of hook. And just to make this a right royal pain in the buttocks, manufacturers don't stick strictly to the conventions ... but you get the idea.
There are also general descriptions about hook shapes, a wide gape hook being one such description; there are others that describe a particular shape variation. To some extent though, we covered that in the previous discussion about hooks.

Hook Configurations

Generally we think of hooks as being a single entity, but that isn't always the case. They can be manufactured as a double, or a treble, hook. Doubles are usually larger hooks and rigged on surface lures and poppers, for big, hard-hitting fish. Trebles tend to be common on small freshwater lures, but are also present as larger hooks on saltwater lures as well. Many fishers don't like trebles because they do damage fish which are destined for release. In most applications a treble can be replaced by a single hook without detriment to the lure's action in the water, or its ability to hook fish. It does pay to check the swimming action of any lures that have singles fitted as replacements for trebles, though: if a lure doesn't swim convincingly it just won't catch fish.
Hooks can also come rigged as a gang of several hooks in line, with the eye of the next hook being attached to the bend of the previous hook; or as a two-hook rig, sometimes called a double shackle rig, where both hooks are attached to a common leader attachment point. These are common in big game fishing, or when targeting pelagics. Assist hooks come rigged as single hooks on a Kevlar cord, attached to a ring attachment point, or as two hooks on two cords on a single ring. They're present on heavy metal mechanical jigs in large sizes and on much smaller jigs – all the way down to micro jigs at just 7 grams. And there are hooks with lead moulded about the hook itself to produce not only softbait jigheads but a wide range of other specialist hooks for all sorts of applications. Actually, the options are endless; there's likely to be a hook configuration for any application you can think of.
If you were to ask me what I hope you've gained from this discussion about hooks, it would be that you now have enough information and awareness of the variations in hook design and manufacture to be quite intentional about the hooks you search out for each application you have in mind. You'll know the pros and cons of each material used in their construction, and you'll appreciate why some hooks are really expensive while others are dirt cheap. Because if there's one thing I've learned along the way it's that hooks need to be understood and seen as an investment in producing results, rather than simply a cost to be minimised.
Take time to do a little homework and research with the understanding you now have and you'll begin to spot the differences and work out what will suit your style of fishing best. Oh, and don't be scared to ask competent and productive fishers why they use the hooks that they do. We're always learning.