gps south island​
---
The Tarapunga Wreck
Tasman Bay, Nelson
GPS 41-04.518 S 173-25.383 E

Dan Govier is a former fisherman and charter skipper, a marine scientist and regular contributor to New Zealand Bay Fisher magazine. He knows his stuff and certainly knows where and how to catch Tasman Bay snapper. The spot that Dan shares with us is a wreck which is handy to Nelson and readily accessible to those with modest vessels. The Tarapunga, a historic harbour defence launch caught fire and after being abandoned was towed offshore so that as it sank it wouldn't create a navigation hazard. The wreck has lain on the mud and sand seabed for the past six years and has now become a thriving artificial reef in 32 metres of water. Avoid anchoring on the wreck but do use your sounder to look around the wreck for schools of fish. You can expect to find John dory, gurnard, snapper and king fish from spring through to autumn. If you choose to anchor away from the wreck create a berley trail back into the wreck and strayline with pilchard baits for the fish you can draw out, otherwise some great fish can be caught on slow jigs while drifting past the wreck. Try to fish when the tide is running, as that will greatly increase your chances of catching something as will being there early and fishing through the dawn change of light.

---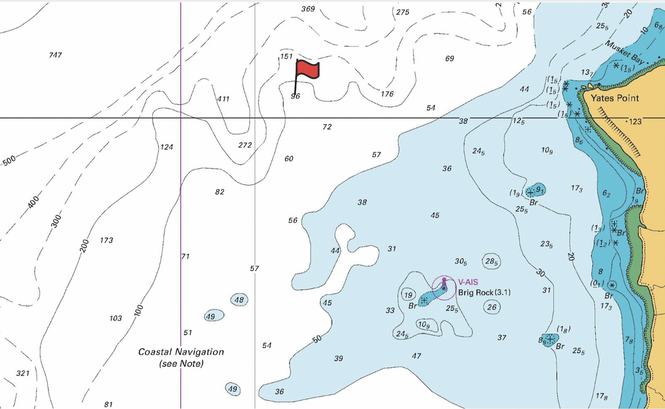 The Terrace
Fiordland
GPS 44-29.819 S 167-45.489 E

​Our editor Tony Dawson fishes out of Milford Sound in Fiordland with his vessels Sons of Thunder and Clear Blue and although not a charter skipper, he thought it was about time he shared a spot for southern readers. The Terrace is a flat bench like area ̶ like a terrace ̶ at a depth of 100 metres and is 2.5 nautical miles west of Yates Point and about 4.5 nautical miles north of St Anne Point at the entrance to Milford Sound. It is a good spot to fish for school groper (hapuka) from autumn through into spring. At 100 metres it is still shallow enough to fish with conventional non-electric reels and close enough to Milford to be accessed safely in modest sized boats on days with little swell or wind. The groper will take a jig and very often the first fish caught will fall to a 250-350 gram lumo jig worked in a lift and fall fashion through the bottom 5 metres of the water column. A heavy ledger rig with a 32 or 40 ounce sinker, circle hooks and fresh slabs of barracouta bait will also be effective, although it may result in hooking sharks which frequent the area. Although there is current which runs north to south, on a day with little wind, a little power applied to keep lines vertical should do the trick. Bluenose are also found in the area but at greater depth than at The Terrace.

---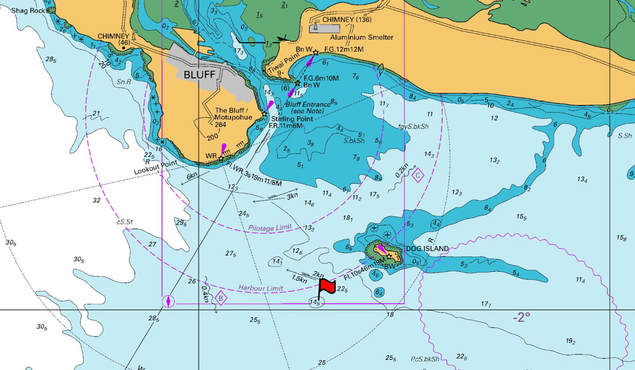 The Tug Patch
Foveaux Strait
GPS 46-39.90S 168-22.88E

​Bill Ryan, who once skippered inshore fishing vessels out of Bluff and who now manages a crayfish processing, packaging and distribution facility, shared this spot with me some years ago. It is an area of foul on a bottom of sand and cobbles. It gained its name; the tug patch, because at one time, Bluff harbour tugs, which accompanied shipping into the harbour limits and into the port would wait in the area. And while they waited, crew members would drop a line and catch a feed of blue cod on the reef. The reef is located to the southwest of Dog Island and lies in about 15m of water. The area is in a strong tidal flow and is best fished at change of tide. Fishing ledger rigs with baited hooks or softbaits on cyclops style jig-heads while drifting works best but lately good catches of blue cod have been taken on slow jigs of 40 to 60 grams. Occasional catches of terakihi have been made and 2/0 flasher rigs and shrimps or cockle baits will do the trick if they are there. Gurnard can also be caught around the reef edges and trumpeter are also present at times and are a welcome bycatch to the southern staple of blue cod. Care should be taken as the area is very exposed and conditions can change very quickly in Foveaux Strait.

---