GPS northland
---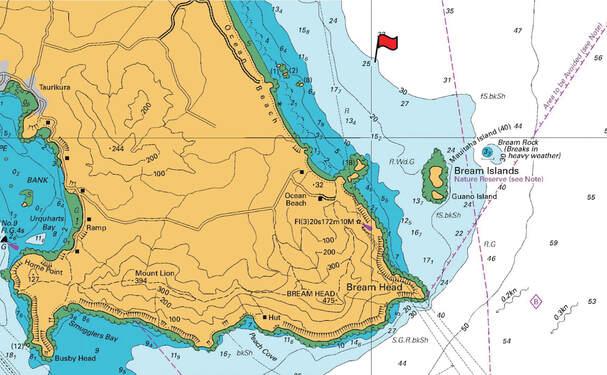 Ocean Beach
Northland
GPS 39-49.414 S 174-34.929 E
The Nimble II and skipper Andy Brockie of Bay Fishing Charters operate out of Marsden Cove. The spot Andy shares with us is easy to get to and sheltered from any south-west or westerly winds. Off Ocean Beach there are 3 or 4 rocks which rise from the sea floor which is around 34 metres below the surface. It is primarily a snapper spot but a variety of other species are present, you can expect to catch kahawai, tarakihi, John dory, trevally, mao mao and sweep as well. The area regularly yields kingfish on cut baits so a livey or a jig may well get you hooked up to a kingi. You can safely anchor there or drift over the rocks and it fishes well through both incoming and outgoing tides, with little current to contend with. Andy suggests 6 oz sinkers and a ledger rig, fresh butterflied baits or pilchards are effective or you might prefer to fish softbaits or slow jigs. Although Andy suggests the spot is a good winter snapper location, it fishes well in the warmer months too and some of the surface activity in summer is impressive. You might want to prospect in the general area for other isolated patches of foul which are also productive.
Bay Fishing Charters. Call Andy on 027 685 4969

---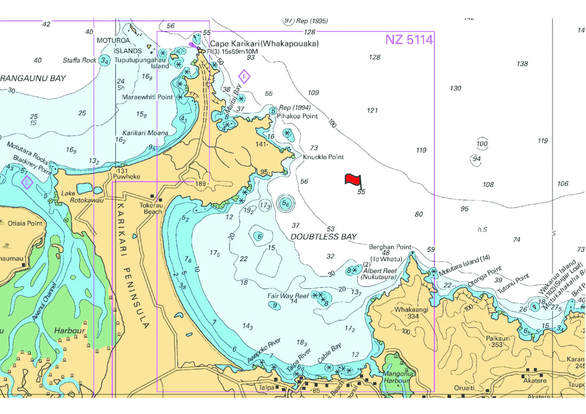 Oasis Rock
East Coast Northland
GPS 34-52.39S 173-31.17E

​Lance Goodhew, skipper aboard Enchanter of Enchanter Fishing Charters describes his spot as "an isolated rock in the middle of nowhere, a bit like an oasis in the desert." It lies in the outer Doubtless Bay on Northland's east coast, a spot Lance passes often. The rock rises only about 3 or 4 metres from the seabed at 55 metres, and is best fished from summer into the autumn, and on an incoming tide. It's an excellent spot for kingfish up to 20kg and is most productive early in the morning. Bait fish, usually mackerel, will sit a few metres above the rock. Lance says, "Both mechanical jigging and dropping livebaits are effective and hits can be expected at around 50m. Use 200 to 400g jigs in baitfish colours: blue, silver and green. If live bait is not apparent on the fish finder or the kingfish aren't playing we'll change to ledger rigs and baited flashers, perhaps 3/0; it's also a good spot to catch terakihi." On the other hand if it's snapper you're after this rock won't interest you; you'll have to move inshore to some of the shallower foul and reefs, Albert or Fair Way, or along the coast.
---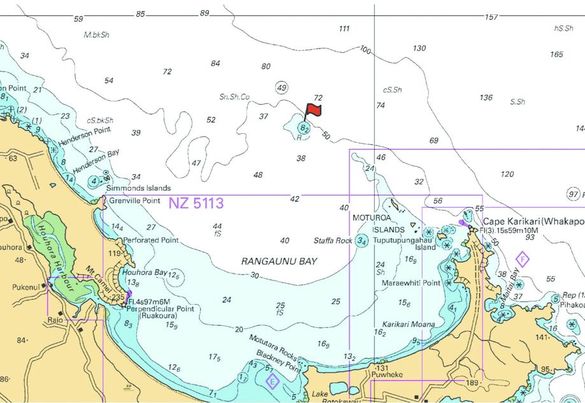 The Shallow Patch
Northland
GPS 34-43.55S 173-17.13E
Rob Parker of Houhora Fishing Charters shares one of his favourite spots, The Shallow Patch. It is very productive to fish year round and is an area of foul with six pins rising toward the surface from an extensive reef system with a drop off into much deeper water to the north. Rob says, "For some reason this area is consistently productive in almost any season, at any time and tide and for a variety of species. Bites are almost always instant and aggressive. The deeper water to the north fished an hour or so before a high tide with 300 gm pink or purple jigs is very effective when targeting kingfish and at this time of the tide bigger fish seem to be most aggressive. Live baits will also work well. Try fishing the extensive area of foul between the pins while drifting with lightly weighted straylined baits with a two hook rig. If you are a bit more traditional you could also anchor up and pump a burley trail and strayline for large snapper that way but we find drifting is most effective. Off the foul and onto the shallower cleaner bottom to the south and west will provide ideal opportunities for slow jigs around 30gm - 40gm; in October, November and December large schooling snapper, up to 10kg frequent both the foul and the surrounding areas. Resident snapper will be present on the reef year round. Off to the deeper side terakihi can be located and trevally are often present in schools if they haven't been cleaned out by commercial fishers."
---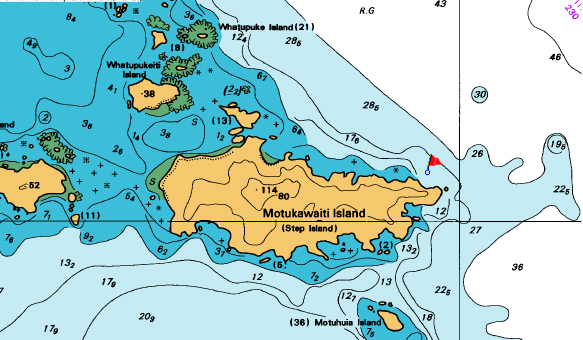 STEP ISLAND
Northland
​I reckon this should be called kingfish alley as it produces good numbers of decent kingies. Slow trolling livebaits is the go here or static livebaits close to the rocks. As kingfish do, they can be on or off but when they are on this is as good a place as any.

---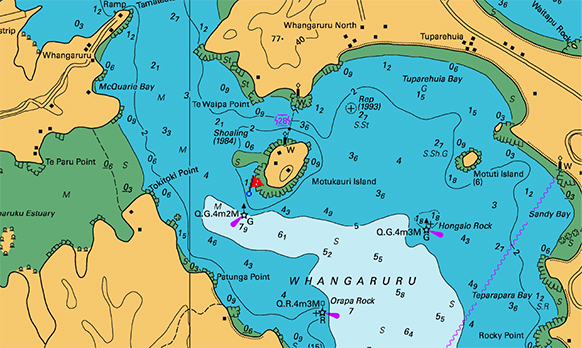 MOTUKAURI ISLAND
Northland - Whangaruru Harbour
GPS 35°21.312'S, 174°20.247'E
Motukauri Island is is a great spot to strayline using plenty of berley. The locals recommend fishing the last two hours of the outgoing tide and if this coincides with change of light even better. Smallish cut baits are best as the main catch is pannies oi collect pippis at low tide for baits as these work well. Use little or no weight on your line.
---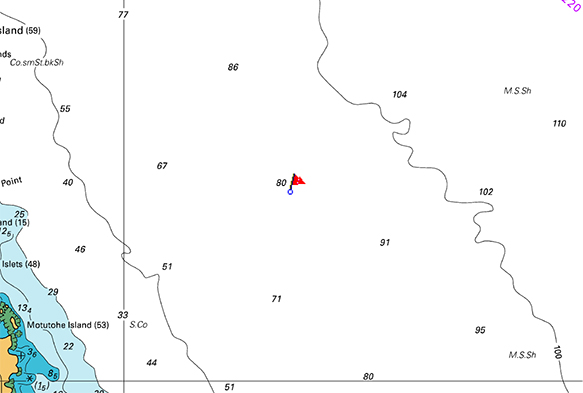 OUT WIDE
Northland
GPS 35-27.51 S 174-32.73 E.
​Another good spot for
tarakihi during winter . Out wide can harbour good numbers of snapper but are usually the smaller versions. The current can be quite strong sometimes so a decent weight and braid lines are worth considering.