gps coromandel & waikato

---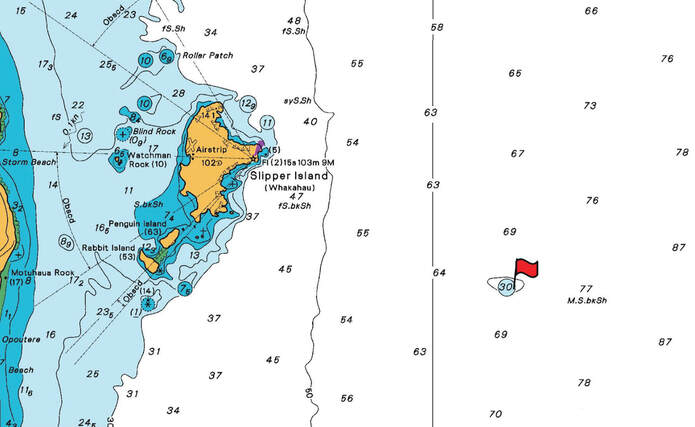 The 32
Eastern Coromandel
GPS 37-04.519 S 176-01.326 E
Jason Harris of Strikezone Fishing Charters, operating out of Tairua shares a productive mark with us which lies approximately 3.5 nautical miles to the east of Slipper Island.
​
The 32 is a reef that rises out of 70 metres of water to around 32 metres below the surface, hence its name. The reef is alive with fish over the summer months. Kingfish, schools of trevally, kahawai and from November until April good snapper are present too. As late summer gives way to autumn it is also a spot where both black and striped marlin can be found. Into the winter, pink maomao are in residence and tarakihi can be caught about the reef's edge. Kingfish can be targeted with jigs and with livebaits, piper, yellow-eyed mullet, koheru and Jack mackerel are all effective. Snapper are best targeted using softbaits on 1/2 to 5/8 oz jigheads and in natural colours although nuclear chicken is always effective as well. The whole range of jigs and jigging techniques will work too. Avoid anchoring on the reef. Early in the day is best and with some tide flowing. Prospect the reef using your fishfinder and concentrate effort around the high points.
Strikezone Fishing Charters
,
www.strikezonefishingcharters.co.nz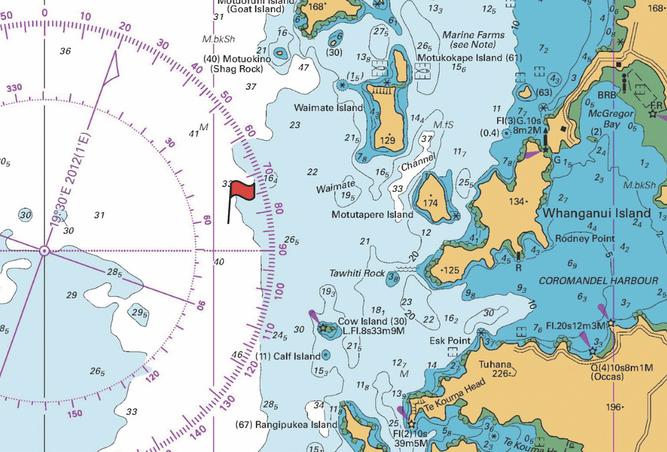 Scott's Trench
Coromandel / Hauraki Gulf
GPS 36-47.125 S 175-22.769 E
Scott and Mig from Fishing and Adventure often frequent the Western Coromandel Coast aboard Holy Ship in search of spring snapper moving into the Firth of Thames. The spot Scott has provided is a trench which snapper seem to use as a route southward into the shallower areas of the Coromandel coastline and the Firth. The area holds good numbers of snapper including some bigger fish. Cruise slowly up the edges of the trench and mark the schools on your sounder and anything near the bottom will be snapper. There are often huge schools of Jack mackerel present on the edges of the trench so catching them and using them as live baits or as fresh cut baits is a great strategy for targeting the bigger specimens. Anchoring up and dropping simple two hook flasher rigs or Snapper Snacks is as productive as any method. Berley deployed deep will also encourage the snapper to feed freely. If you have good sign on your sounder, drifting while fishing softbaits, kabura or slider style jigs, micro jigs and slow pitch jigs will also catch you good fish.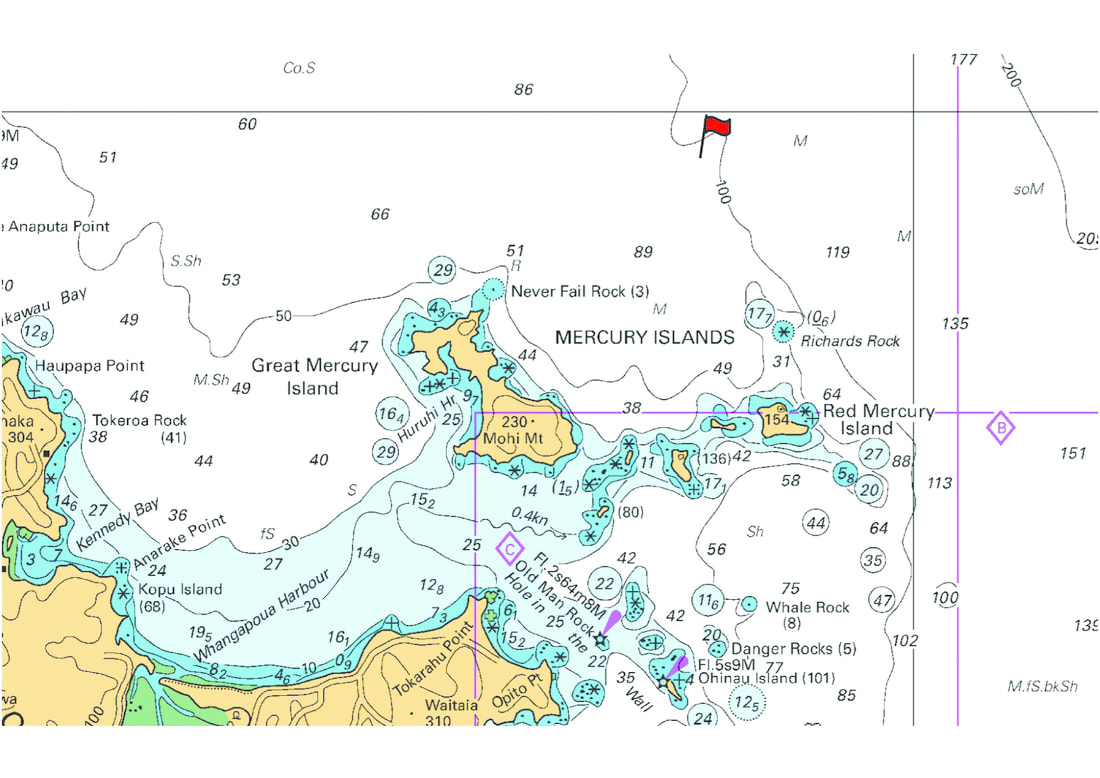 Crackerjack
Eastern Coromandel
GPS 36-31.241 S 175-53.612 E

​Thomas Maxwell, skipper aboard Mad Max of Epic Adventures in Whitianga, shares a productive kingfish and snapper spot with us. Crackerjack is an offshore reef that rises to 70 metres out of 100 metres of water and lies about 6 miles east of Great Mercury Island. It's primarily known for its sometimes insane kingfish action, however many other species are regularly caught here, including hapuka, snapper, trevally, John dory, pink maomao and golden snapper. At the north western edge of the reef there's an amazing 30 metre vertical wall that acts as a perfect pressure face on an outgoing tide. Dropping livebaits or jigs down to where the bait schools are forced tightly together by predators above the pressure face is the best way to target big kingfish. Up on top of the reef snapper can easily be targeted with dead or cut baits, while dropping a livebait to the bottom can produce the bigger fish as well as the chance of a hapuka or John dory. With the shelter of Mercury Islands Crackerjack is a great option for a variety of species – and only a 45 minute run out of Whitianga.

---
Jackson's Reef
West Coast, Waikato
GPS 37-52.195S 174-43.323E

​Roger Bright, relief skipper aboard Islay Mist II out of Raglan shares his GPS spot with us which is a reef rising from 30 metres up to 14 metres and is south west of the Raglan harbour entrance. Roger says the reef is reasonably easy to locate and often has cray pots set along it so they help to locate it. The reef has a steep face and drop off on the seaward side and runs out to a boulder field at the northern end. It is a popular spot for divers but the major attractions at the reef are summer snapper and kingfish. There is significant current as the tide flows and this attracts kingfish which cruise the steep outer edge of the reef. They are best targeted on mechanical jigs in the 250 – 300gram range in blue and pink colours. There is no reason why livebaits fished deep or under a balloon wouldn't work here either. The snapper are best targeted among the boulders at the northern end of the reef from an anchored boat using squid or bonito on two hook ledger rigs. Snapper are also plentiful at times by venturing out from the reef to between 35 and 50 metres.

---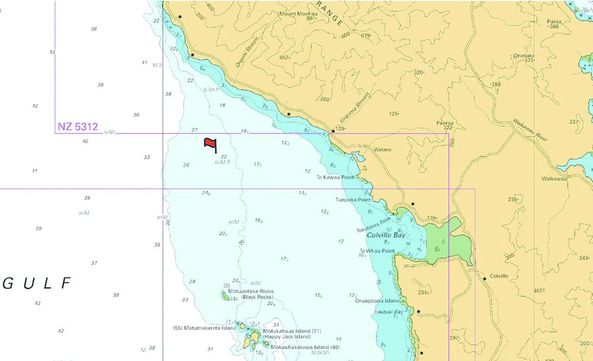 The Red Shed
Western Coromandel
GPS 36-34.53S 175-20.91E

​Chris Dabb, Skipper aboard Anglers' Lodge II operating out of Amadeo Bay shares his spot with us, it's an area of low foul at 24 metres which incorporates horse mussel beds and is swept by moderate to strong currents. Chris says that the area fishes very well for big snapper from late August through into December when straylining works best with ¼ oz. sinkers on an outgoing tide. The snapper fishing becomes less prolific and the fish slightly smaller as the summer progresses. From December the area responds well to live baits fished on the bottom which will yield snapper, John dory and kingfish. The kingfish become the predominant catch on livebaits as summer gives way to autumn and snapper begin to move out of the firth and the gulf. The best live baits appear to be Jack mackerel but Chris emphasises that they really need to be on the bottom not higher in the water column and not beneath a balloon. Slow jigs also work well for early season and summer snapper while drifting. There are also workups to chase in the vicinity which afford some excitement. Launching facilities are available at Fantail Bay, Otautu Bay and Amodeo Bay.
---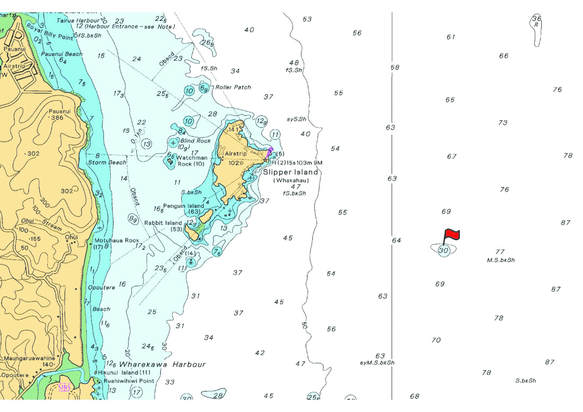 Nick's Nest
Eastern Coromandel
GPS 37-04.50S 176-01.14E

​Nick Stack, skipper for Skyline Charters out of Tairua shares his spot with us, a pinnacle about 3 miles south east of Slipper Island. Nick says; "This spot is either hot or cold, but when it's on it is hard to beat. What looks like one pin on the chart is actually more like a tripod, with three sharp pins coming up from 60m to 32m. In my crayfishing days we regularly potted this reef, so if you see cray pots you are in the right zone. It fishes very well for kingfish when the blue water is in close, and preferably with a good south east current. I've re-caught kingfish here that have originally been tagged at White Island and Ranfurly Banks, so it is the sort of spot the pelagic fish visit in summer with the nice blue water. Big schools or kahawai and trevally can also be found schooling here, so it is worth casting a stickball as often the bigger kingfish will be tailing these schools. Be prepared to wade through a lot of smaller fish if you are jigging. Some nice big live baits will see you get into the bigger fish. The bonus is this spot is only 8 miles from Tairua so it makes a nice change to the long haul out the wider pins. For the bottom fishermen, the low foul around this reef system produces plenty of terakihi, snapper, pink mao mao and the occasional hapuka."

---
NGAPITA REEF
Coromandel Peninsula
GPS 37-14.576 S 175-56.055 E

Apparantly Ngapita reef is a sunken barge of some sort but I haven't been able to find anything on the net so if any reader can enlighten us that would be appreciated. Ngapita reef usally fires in October for tarakihi. 1/0 hooks are the go here for tarakihi. Drifting the area with softbaits we have also caught plenty of snapper and gurnard over the warmer months.


---

PORT JACKSON REEF
Coromandel
GPS 36 27.7725 S 175 20.323 E

​When you get the tide and wind working with you onto this large 700m long reef complex at The eastern end of Port Jackson the fishing is usually spectacular. We have caught and released several trophy snapper off this reef. A livie on a balloon usually gets hit from a kingie too but the challenge is to keep them from busting off in the foul.

---

RANGIPUKEA ISLAND
Coromandel

Fish the north-eastern face of the island on an incoming tide and berley heavily. This area has proven excellent for snapper in the late summer. The island provides good shelter from the prevailing south-westerly wind, although a northerly quarter wind will blow it out.

---

The New Chums Rock​Eastern Coromandel


GPS 36-41.468S 175-36.756E

Wade Adams of Smada Fishing Charters at Whangapoua shares an easy to access inshore spot which is productive and yields good catches of snapper and kingfish.

It is a rock at the northern end

of New Chums Beach which rises from a foul bottom of around 13 metres and is awash at low tide. Wade says it is suitable to fish from a small boat being close to shore and being off the edge of the main tidal flow there is little current to contend with. Snapper of 5 – 7kg can be targeted in the early morning and the best technique is to anchor and berley up then fish a straylined bait with a ½ oz. sinker well down the berley trail. Wade points out that the spot is also a very productive kingfish spot. He says; "they are best targeted by slow trolling a livebait; yellowtail and kahawai are prolific in the area and make ideal livies. Use an 8 oz. sinker with 40 metres of line out and troll at 2 knots and you will find the baitfish will run at 8 metres deep. Quite big kingfish can be found anywhere around the rock."