---
As we all know, major fishing reel manufacturers produce a range of reels to meet a variety of price points, and most of us understand that as you select a product further toward the high end of the scale, the quality of the reel is improved. What the improvements are exactly isn't always immediately obvious, although some features most definitely are. Higher-quality reels will have more metal components, a better finish, more and higher-quality bearings and more of the technical design features the manufacturer has developed. What isn't always obvious is the quality of the drag components and drag performance. It should follow that the more you pay, the better the drag system your reel should incorporate in its design and manufacture. Generally, that will be the case, but not always. The reason it isn't so easy to draw a simple conclusion is because drag systems come in a number of configurations and utilise a range of materials, giving quite a spectrum of drag performance. Some materials are cheaper than others and some configurations are more intricate and costly to produce.

​Drag is really the system that produces friction and resistance to the spool turning, and the release of line. Actually, two things work together to produce line out resistance ̶ the reel drag and the friction of the line through the rod guides ̶ neither is insignificant. When you buy a reel, you may not be aware of the design configuration, unless you have some acquired knowledge, and you probably won't have a clue what materials have been used to produce the drag system. The packaging and indications on the reel will probably only tell you what the reel's maximum drag rating is ̶ it will be in kgs of line out resistance at the reel – not at the rod tip under load, which will be considerably more.

Before we get to the materials used in drag systems, and the way those systems are configured along with other considerations such as whether those materials remain dry or are lubricated, we need to briefly discuss the principles of "smoothness" and of "start-up inertia." Smoothness is the ease and consistency with which a constant tension and line out resistance is maintained as line leaves the reel. Smoothness needs to occur over the whole range of drag settings so there is no "grabbing" or "jerkiness." Start-up inertia is the ease with which the spool goes from not rotating to rotating against the drag and frictional resistance. It can be almost undetectable in some reels, to being quite a sudden jerk in others, before the turning spool settles to a smooth release of line. Both the materials used, and whether they are wet or dry, will have an effect on smoothness and start-up inertia. When a fisher describes a reel as having "silky smooth drag," it is a reasonable indication of a quality drag system, but it's all relative.

In any drag system, there are common components, washers or plates of metal, usually stainless steel, or, in high end reels, titanium ̶ frictional material as a disc between washers or a disk fastened to the spool and a tensioning system. A point to note is that bigger drag discs, plates and washers will have a greater operating surface and produce more drag more smoothly than smaller discs.
cont...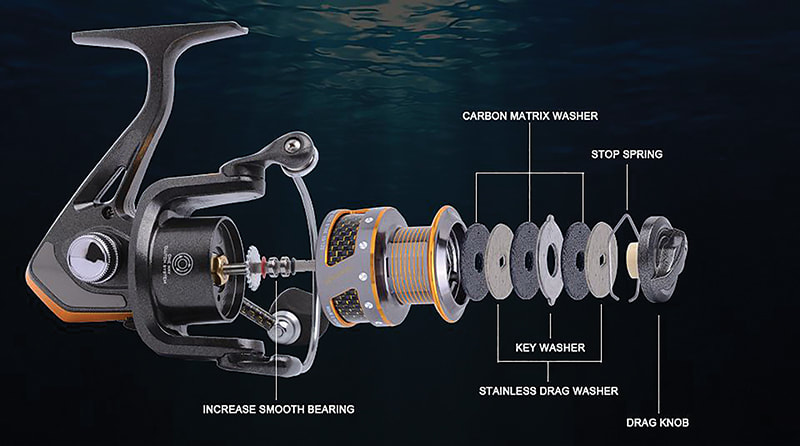 Drag Materials
Materials used in the earliest designs were either asbestos, such as was used in brake pads and linings, not used now for obvious reasons, or fabric, such as felt. Felt is still widely used in lighter weight reels, probably up to around 4000 size in spinning reels and drag capabilities below 8 kg or thereabouts. Felt is lubricated with a light oil rather than grease, and the advantages are minimal start-up inertia and smooth release of line. Felt is not the most durable of materials and won't perform where serious drag is desirable; it requires regular replacement for well-used reels. Storing reels with the drag tension released will help with longevity too.
Perhaps the most common heavy-duty frictional material used in drag discs is carbon fibre. It
can
be as a carbon fabric bonded to a base such as fibreglass, but is now usually a compressed and bonded solid carbon disk. Different brands of reels use proprietary carbon fibre material, and upgrades for drag systems are available to "beef up" and "tune" the drag systems on high-performance heavy-duty reels. Carbon can be used dry, but is most often lubricated with reel and drag grease, a special formulation for use in this way. If a dry system is in operation, friction and drag are high, but smoothness and low start-up inertia isn't a strong point. If lubricated with grease, total drag may be lower, but it will be smoother with less start-up inertia. Carbon does heat up when generating friction, and as it heats, it becomes less frictional, and drag will reduce. Grease and improved formulations of materials have minimised that tendency.
Titanium metal has been incorporated into some high-end reel designs, particularly twin-drag overhead reels, as a pairing with carbon discs, so that very hard metal and the carbon in contact with it, produce high frictional resistance while remaining smooth in operation and effective as dry systems. Heat dissipation adds to the smooth operation.
Teflon or non-stick PTFE material is now common as frictional disc material in reel drags and it's usually as a coated disc. As you might imagine, there is little start-up inertia and drag remains smooth over a wide range of drag settings, but is not capable of producing as much friction and resistance as carbon fibre materials. Teflon and PTFE are very durable, don't heat up and aren't variable in the amount of drag produced in operation while line is leaving the reel.
There are other materials in use and in development; Kevlar is one of them and offers some advantages over carbon fibre, but it is expensive and not as easy to work with in producing drag discs.


Drag Configurations
Spinning reels make use of a succession of washers and disks called a "stack." The metal washers are "keyed;" some remain non-rotational about the spool axle and some are fixed to the spool and are rotational. Between the metal washers are disks of friction-producing material. There may be a few or many washers and disks in the stack; there are usually more components in the stack on higher-priced models. The disks come in a variety of materials and are designed to either remain dry or to have a surface covering of grease or oil. A screw-down drag knob on the face of the spool increases pressure on the stack or reduces it, increasing or reducing the drag produced.
Overhead reels come in several configurations. The star-drag overhead reel uses a star-shaped tensioning device to produce pressure on a "stack" of washers and drag discs. Some washers are non-rotational and fixed to the main drive gear, while others are fixed to the drive shaft which passes through and is independent of the main drive gear. The mechanism is not necessarily arranged around the spool shaft axis and may be offset within the reel housing. The drag disc material may be felt or fabric through to carbon discs, Teflon/PTFE or other proprietary materials.
Lever drag overhead reels operate around the shaft axis of the spool and the drag disc or discs are either bonded to the reel spool or between metal washers or discs one of which will be bonded or attached to the spool. The alloy spool itself won't be used as a metal surface in contact with frictional material. A lever tensioning device slides around a progressive cam to provide increments of increasing pressure on the assembly of metal and drag discs on the spool end to provide drag. The surfaces are large and whether the discs are lubricated or dry, in quality reels, you can expect relatively smooth and progressive drag to be provided.
An advance on this system is the "twin-drag" system, where there are metal discs or washers and drag discs on both ends of the reel spool. Moving the drag lever around the cam will produce increased pressure on the discs on both ends of the spool, simultaneously and evenly. This effectively doubles the drag producing surfaces and so less pressure provides a great deal more friction; the resulting drag performance is smooth; start-up inertia is minimal and the drag performs very well at high settings. The use of carbon fibre and titanium metal along with drag grease will produce huge drag easily and "silky smooth" performance.
Baitcaster overhead reels use the drag disc and washer "stack" configuration, since they are star-drag systems. The frictional material is usually lubricated felt or fabric drag discs.
Fly reels make use of a variety of configurations and materials. The drag requirement is usually much less than that expected in saltwater spinning and overhead reels. The most basic system is the "click and pawl" drag system, which is really a ratchet and spring mechanism; some force is required to make the small spring click over each point on the machined brass cog. The two parts of the mechanism are attached, one to a fixed part of the reel and the other to the rotating spool. If this seems very basic and lacking in adjustment, you'd be right; keep in mind that fly fishers are quite used to "palming" a spinning spool to produce subtle and infinitely variable resistance to line leaving the reel.
Other configurations may include a male and female arrangement of conical metal and drag material tensioned by a knob on the spool axle. Some fly reels employ a flat disc and washer arrangement, often making use of titanium and carbon drag discs and a tensioning knob on the spool axle. The interesting thing about fly reels is that they are routinely submerged in freshwater and not designed to be waterproof, so materials in the drag system have to be able to work wet or dry and resist the effect of submersion and constant wetting, drying and storage while retaining their ability to produce modest drag, very smoothly with minimal start-up inertia. Remember, leaders and tippets of just 1 to 6 lbs may be in use. Smooth operation is critical and smooth drag is essential.
My hope is that you may have just increased your basic knowledge of drag systems, materials and the principles that produce, good (smooth) drag ̶ and all that expense ̶ in a good quality fishing reel, that you can't see when you pick it up.
​